There's no golden ticket required to enter the newly refurbished and reimagined Goo Goo Chocolate Co. downtown, but the experience is awe-inspiring nonetheless.
On the morning of Nov. 5, the day the store reopened after an extensive $2 million renovation that took seven months to complete, visitors lining the block on Third Avenue were as wide-eyed as Charlie Bucket as they entered. The bronze door handle, fashioned to look like a Goo Goo Cluster, is just the beginning. Willy Wonka would be proud. 
There's a replica of a century-old copper kettle from the company's archives, with chocolate streaming from a faucet above. One wall is lined with large display containers of peanuts, marshmallows, caramel and milk chocolate — all the ingredients in the original Goo Goo Cluster. Aproned chocolatiers are busy making custom orders by hand in the store's brand-new kitchen, on full display behind a glass window. 
"We wanted it to feel kind of like a factory setting," says Beth Sachan, vice president of sales and marketing. And while it's not the production facility — that's out by the airport — thanks to the additional equipment, staff members can now make 200-300 Goo Goo Clusters a day by hand in the downtown shop. 
Customers can channel their inner chocolatier and design their own Goo Goo. Touch-screen machines resembling ATMs allow visitors to choose their chocolate shell and select up to two fillings from a variety of options that include vanilla nougat, Nutella and salted caramel. They then pick three add-ins from a wide array, including rainbow sprinkles, crushed Oreos, toffee pieces, roasted peanuts, Fruity Pebbles and potato chips. After paying online, patrons can watch their custom candy being crafted and packaged in a gift box right in front of them. 
Another highlight of the new shop is the dessert bar. The company has obtained a liquor license and will be serving boozy milkshakes, in addition to a menu that includes brownies, blondies, cakes, pies, floats and nonalcoholic milkshakes. They will also be offering tastings of chocolate and whiskey pairings. 
In the back of the shop is a private classroom where customers can enroll in hands-on chocolate classes to learn how to make a Goo Goo Cluster. They even get to design their own box. The cost is $50 per person, and the classroom can accommodate 16 people. Those interested can either register online at googoo.com or, if there's availability, sign up at the shop.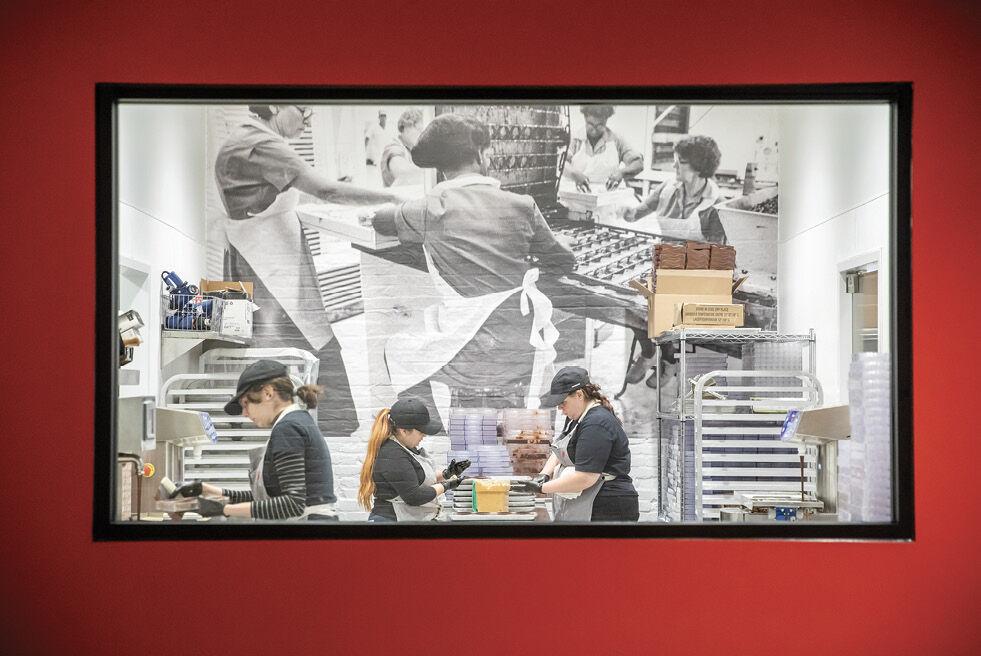 A Little History
The Standard Candy Company introduced the Goo Goo Cluster in 1912. It was the first combination candy bar in the country. Until then, the idea of combining various ingredients with chocolate was novel. Today, Goo Goo Clusters are sold in various stores regionally and nationally at Cracker Barrel, Hobby Lobby and Tractor Supply Co. "We're not trying to be the Hershey and the Mars of the world," says Beth. "We'd rather partner with people where it makes sense for us."
Pure Imagination
Centric Architecture oversaw the renovation, and Seattle area-based Dillon Works, who has worked with Nike and Dylan's Candy Bar, did the installations. At the Goo Goo store, there's a little whimsy everywhere, from the faux chocolate-coated light bulbs to conveyor belts with wire baskets filled with signature Goo Goo Cluster boxes traveling overhead on a loop. There's also an interactive display of colorful acrylic tiles with fun facts about the company. "It's about having an experience," says Beth. "It's not just a retail store."
Photographs courtesy of Nashville Guru