In the middle of the 20th century, Madison Avenue executives would sip cocktails while dining on duck à l'orange, prime rib, or fillet of sole, ending their meal with a baked Alaska or a cherries jubilee. Many of the dishes were prepared or finished at the table by a chef or server to showcase their skill and talent. A ballet of servers danced through the dining room in whisper-quiet syncopation as they finished a dish tableside — occasionally broken by the staccato gasps of diners as the glow of a flaming bananas foster filled their corner.
While the popularity of tableside service began to wane in the '60s and '70s, this trend has experienced a renaissance in recent years. Today, it is much more dans le style for fine dining restaurants to prepare at least one dish tableside, and Nashvillians can enjoy these experiences right here at home. Bon appétit!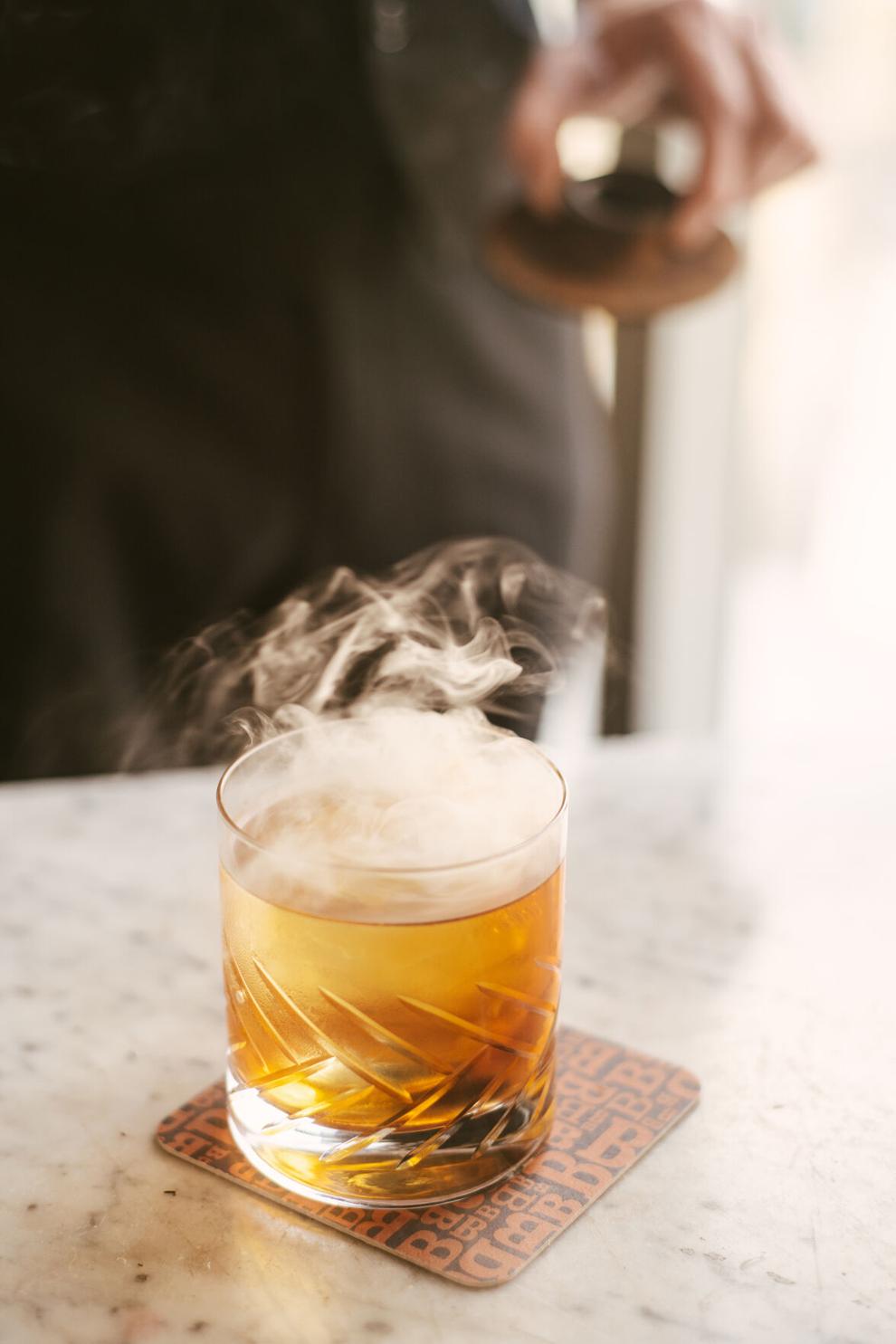 A5 Wagyu-Smoked Old Fashioned
Helmed by Michelin Star Chef Michael Mina, Bourbon Steak features sophisticated design and a compelling menu that combine Nashville roots with cosmopolitan panache. This sky-high setting is home to unparalleled views of downtown Nashville, high-quality cuts of beef and a dragon's hoard of whiskeys.
Accompanied by the details of the process, Bourbon Steak's cocktails are mesmerizing tableside offerings. The Old Fashioned features the typical — sugar, Angostura bitters and hickory smoke — and the unusual: Blanton's Bourbon, mellowed by the fat of an A5 Wagyu steak. This process, known as fat-washing, leaves no fat in the drink, just a beautiful, round flavor and caramel aroma. Santé!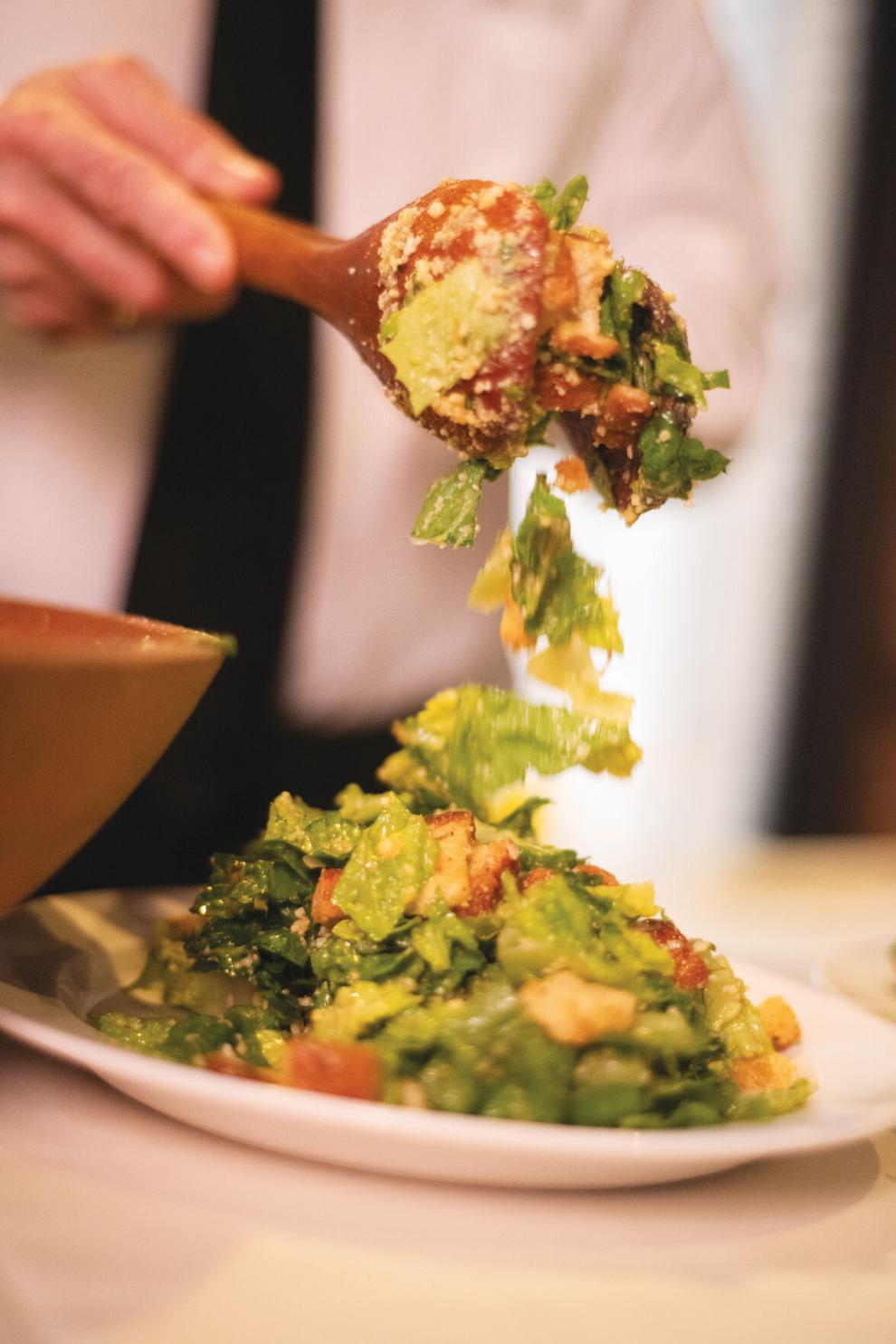 Caesar Salad
Valentino's has been a mainstay in Nashville for decades: The backdrop for many memorable meals, this establishment is known as an excellent spot for music industry leaders to meet and mingle. For couples dining out, a dish prepared tableside can add to the romance of the evening, and Valentino's Caesar Salad is the perfect example.
The basic preparation involves egg yolk, garlic, anchovies, extra-virgin olive oil, red wine vinegar, Worcestershire sauce, dry mustard, romaine lettuce, Parmesan cheese, and house-made croutons. In preparing this traditional first course, however, each server adds their own flair to the salad. One may add more garlic; another may add less vinegar. Inviting the diners into the process, the assembler becomes a part of the tableside experience as they describe and execute the construction.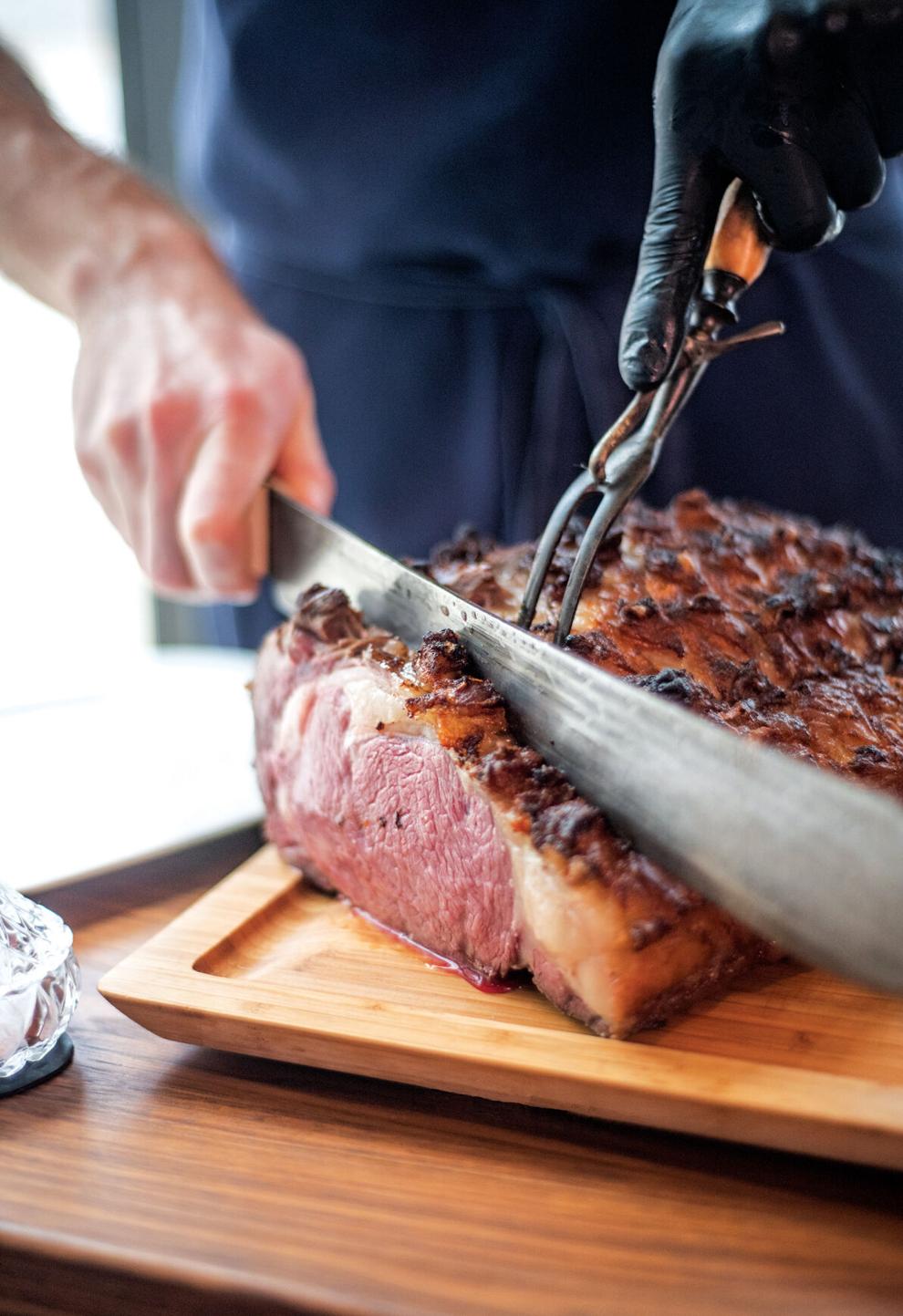 The Continental Prime Rib
Have you ever wondered what it would have been like to dine at a grand hotel during the height of mid-20th century fine dining? Wonder no more, because the foyer of The Continental may be a time machine. Chef Sean Brock's passion for American culinary history melds beautifully with his reverence for the traditional elegance of hotel dining.
Brock's nouvelle approach to classic American fare harkens back to a time in modern French cooking and fine dining marked by simpler, more delicate dishes and an increased emphasis on presentation. The result is a refined yet inventive menu featuring a number of tableside offerings: Pâté en Croûte, NY Strip Steak au Poivre and Black Winter Truffle. The star of the show, however, is the delectable, melt-in-your-mouth Prime Rib, sliced and served tableside with horseradish cream and natural jus.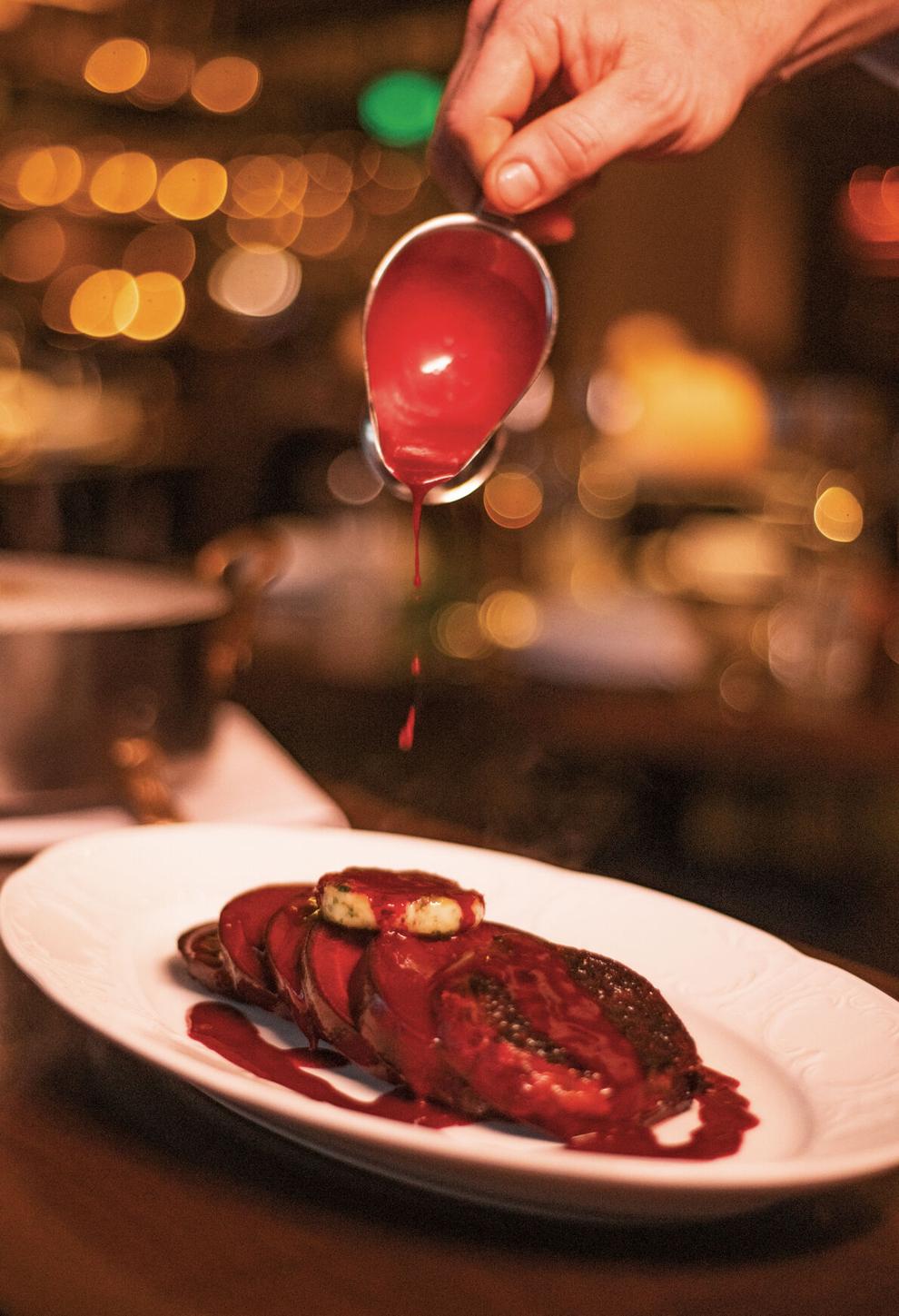 Smoke-Roasted Beet Steak
The Italian chophouse Carne Mare offers prime-aged beef, wagyu and prime rib, served with a selection of steakhouse contorni as well as seafood and house-made pastas. Cultivated by Chef Andrew Carmellini and Chef della Cucina Levi Raines, care and craftsmanship come together in this space to bring elevated Italian dining to the middle of the bustling Gulch.
While a steakhouse is not necessarily the first place a vegetarian would look for a meal, Carne Mare offers an excellent option to be finished tableside: a 12-ounce Smoke-Roasted Beet Steak, topped with goat butter. Diners can enjoy the sizzle of the dish as the beet is grilled right before them.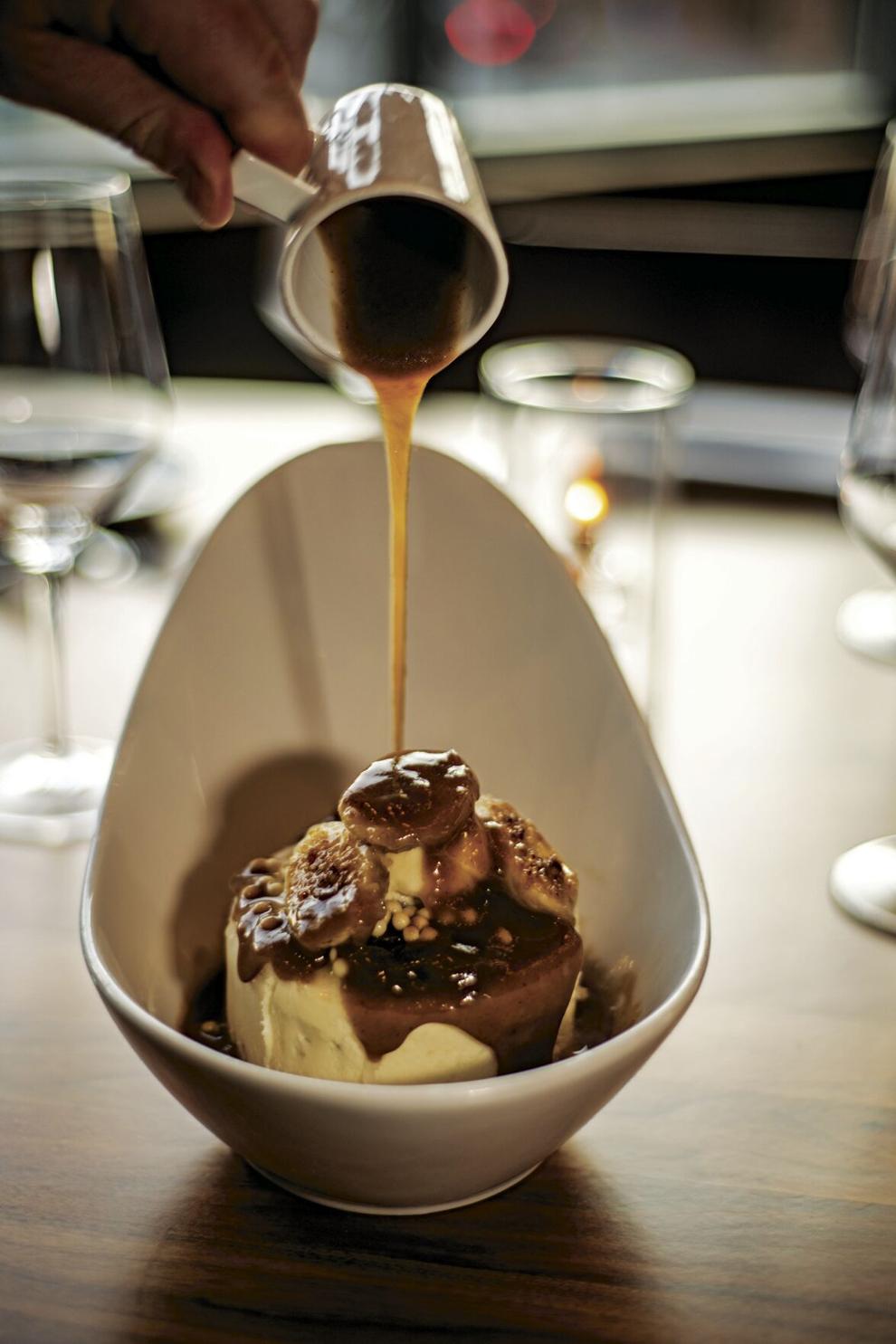 Bananas Foster Cheesecake
E3 Chophouse, a high-end, ranch-to-restaurant steakhouse, is located in Nashville's Hillsboro Village neighborhood. An extension of the family-owned E3 Ranch, headquartered in Fort Scott, Kansas, the restaurant serves all-natural beef directly from E3 certified ranches. 
After dinner, if guests are still hungry and craving a grand finale, the Bananas Foster Cheesecake is a brilliant — and gluten-free — way to end the evening. Foster sauce is set aflame and delicately poured over vanilla bean cheesecake with a gluten-free banana bread base. For an enhanced experience, the Fondness for Fosters pairs the flambé with an after-dinner cocktail of Wheatley Vodka, Banana du Brazil, Godiva, Licor 43, cream, cinnamon and walnut bitters.