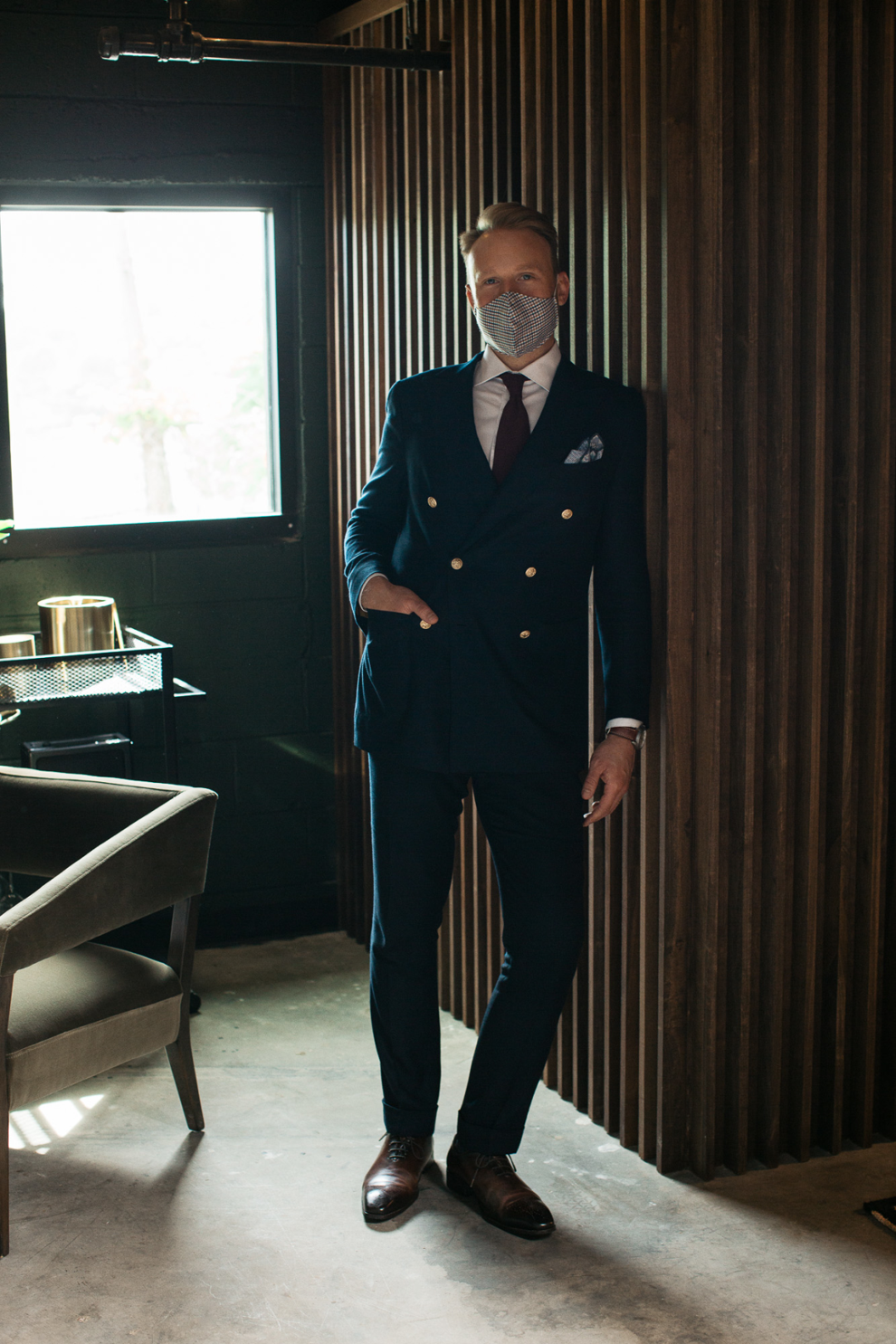 Stitch-It & Co./Loring & Co.
Designer: Jeff Loring
Model: Casey Dowdell
Leave it to Jeff Loring, a well-known bespoke men's suit designer, to create masks from 100 percent cotton menswear shirting. Styles include a myriad of prints and solids, ranging in color from pastels to jewel tones and all lined in white water-wicking cotton twill. There's summery blue gingham, festive red stripes, and a rich gold and red paisley mask to elevate any attire. Jeff has donated masks to hospitals and also offers a 20 percent discount to health care professionals. Masks come in adult and youth sizes and can be monogrammed. www.stitchitandco.com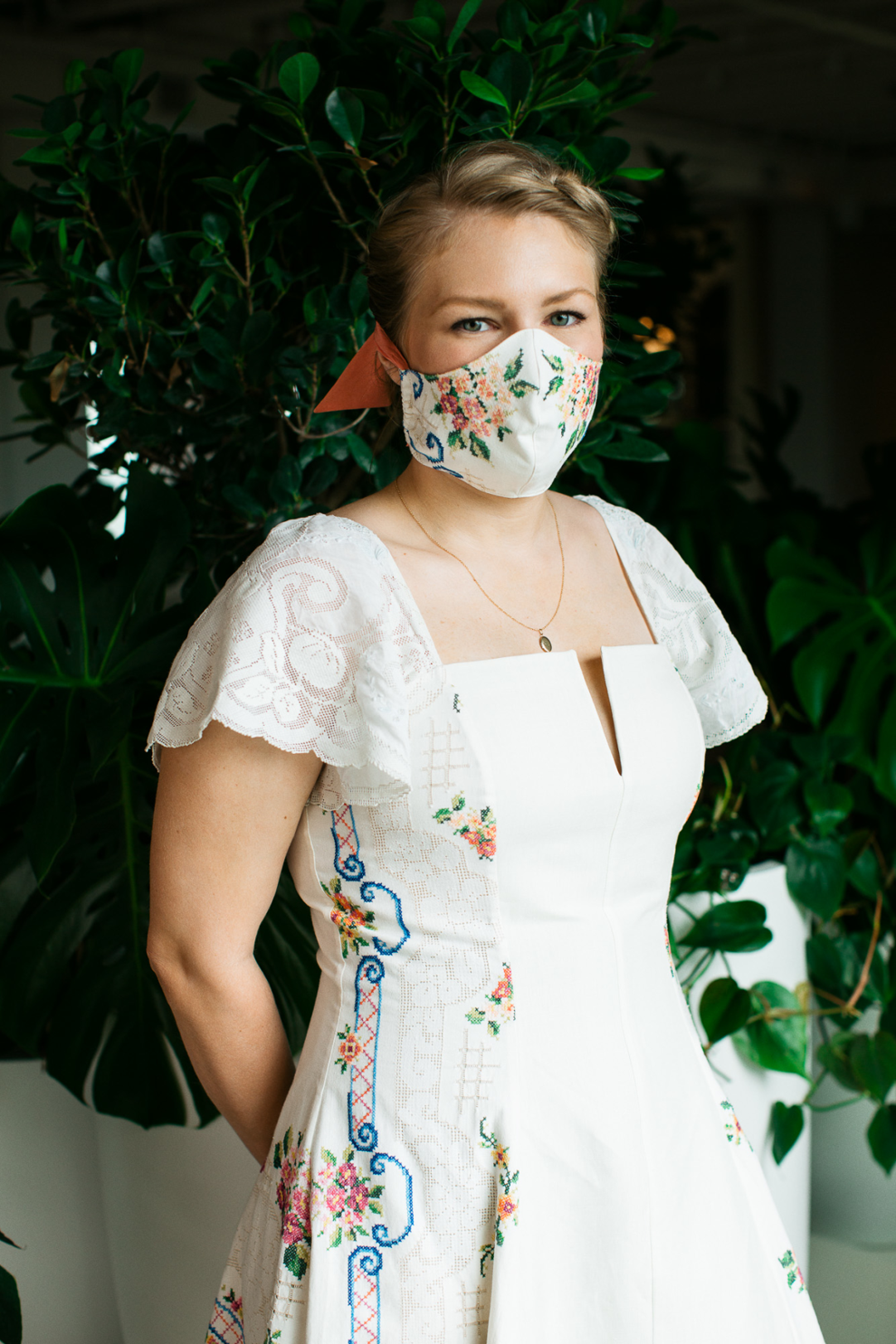 Erica Knicely
Designer/Model: Erica Knicely Adams 
Perhaps a silver lining, the COVID-19 pandemic has slowed the world down and seemingly brought about a sense of nostalgia, whether it's musicians performing on balconies and front porches or neighbors leaving flowers or fresh baked bread on doorsteps. Like a nod to simple pleasures, Erica Knicely masks are made from embroidered cotton or linen fabric the designer has collected over the years. The primarily womenswear line, designed and produced in East Nashville, features romantic, vintage pieces. Erica donates masks to hospital workers as a pretty, off-duty option to medical masks. www.ericaknicely.com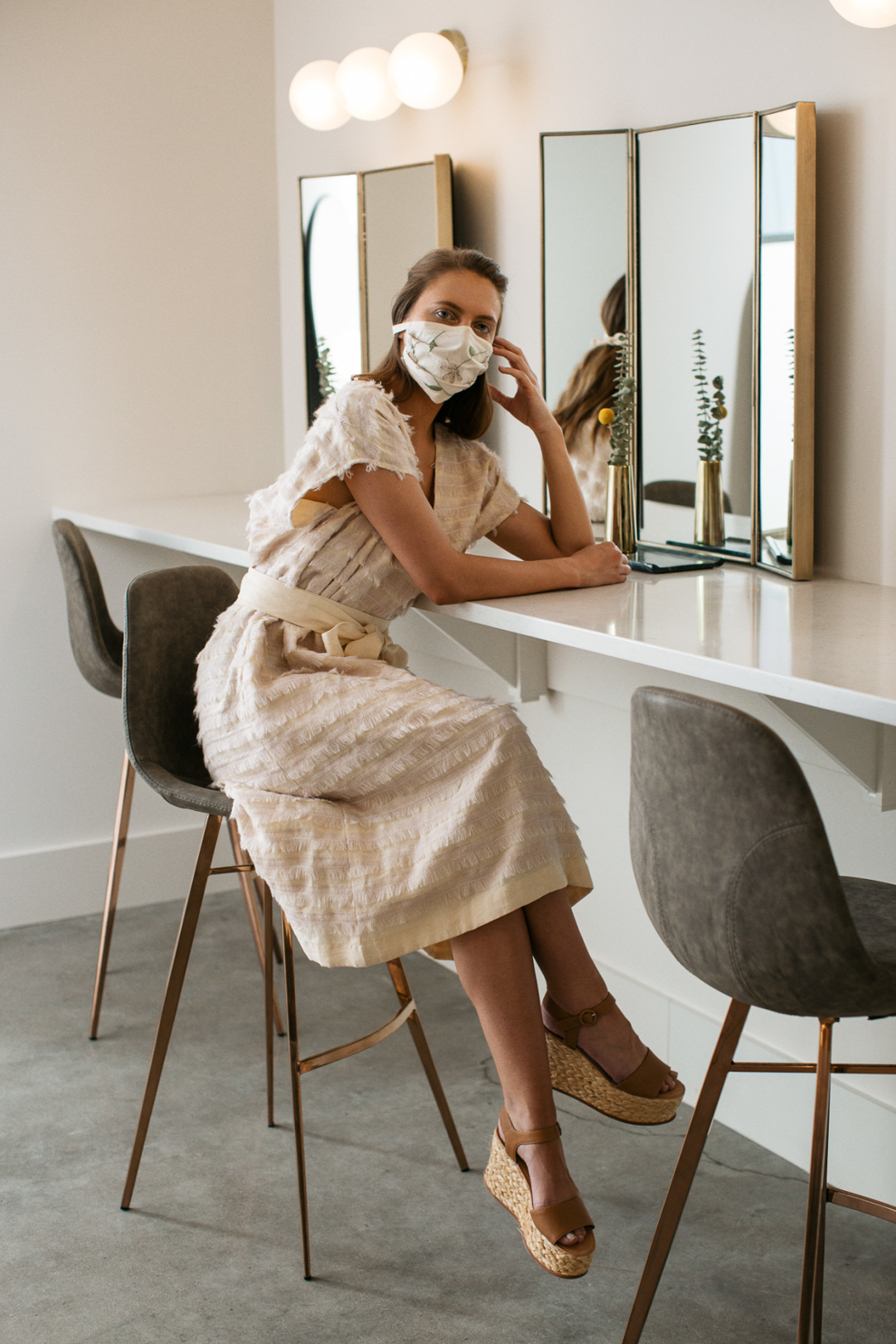 Van Hoang
Designer: Van Hoang
Model: Cheyenne Conrady
It makes perfect sense that the designer behind the ethically made, modern womenswear line would offer 100 percent natural cotton masks. The masks have twill ties and a wire at the top to help them fit more snugly. There is an opening in the back to insert a filter. Customers may choose to dye the masks "for a fun project," or the masks can be appreciated in their simplicity. Profits are donated to medical professionals, and for every mask made, at least one other is donated through Masks for Heroes. www.vanhoangthelabel.com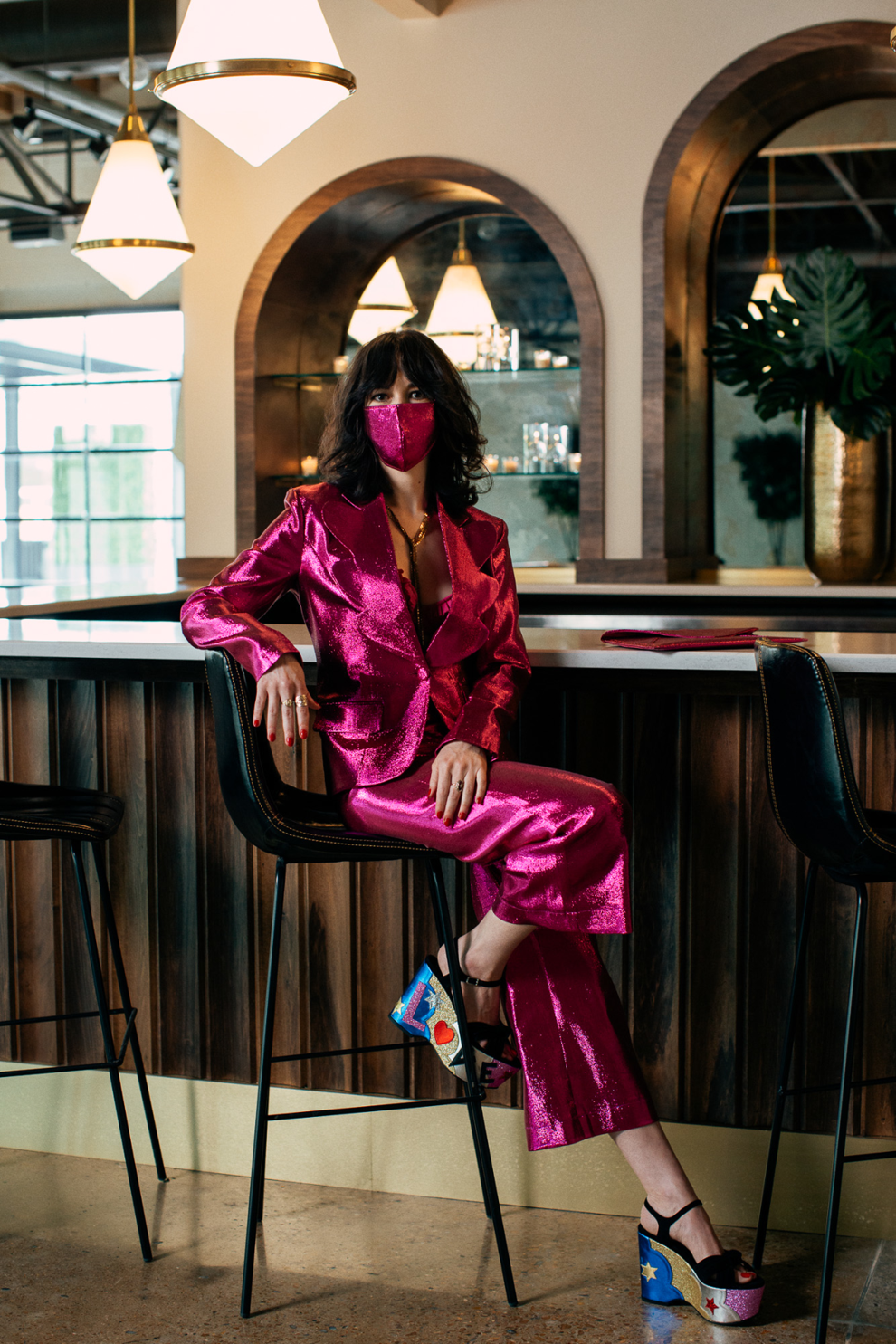 Laura Citron
Designer/Model: Laura Citron
Hair by Stan Newton, Jon Alan Salon
"Stay safe! Stay cute!" proclaims the designer's website. That just became a whole lot easier with this wide array of glamorous gold lamé, metallic and sequined masks. "My hope is to bring a little joy and happiness to people during an uncertain time, while also keeping them safe," says Laura. The masks, made from leftover fabric, are the perfect complement to Laura's '70s-inspired designs, including a gold lamé suit, which features a jacket with oversized lapels paired with a wide-legged pant. Health care workers receive a 20 percent discount on masks. www.lauracitron.com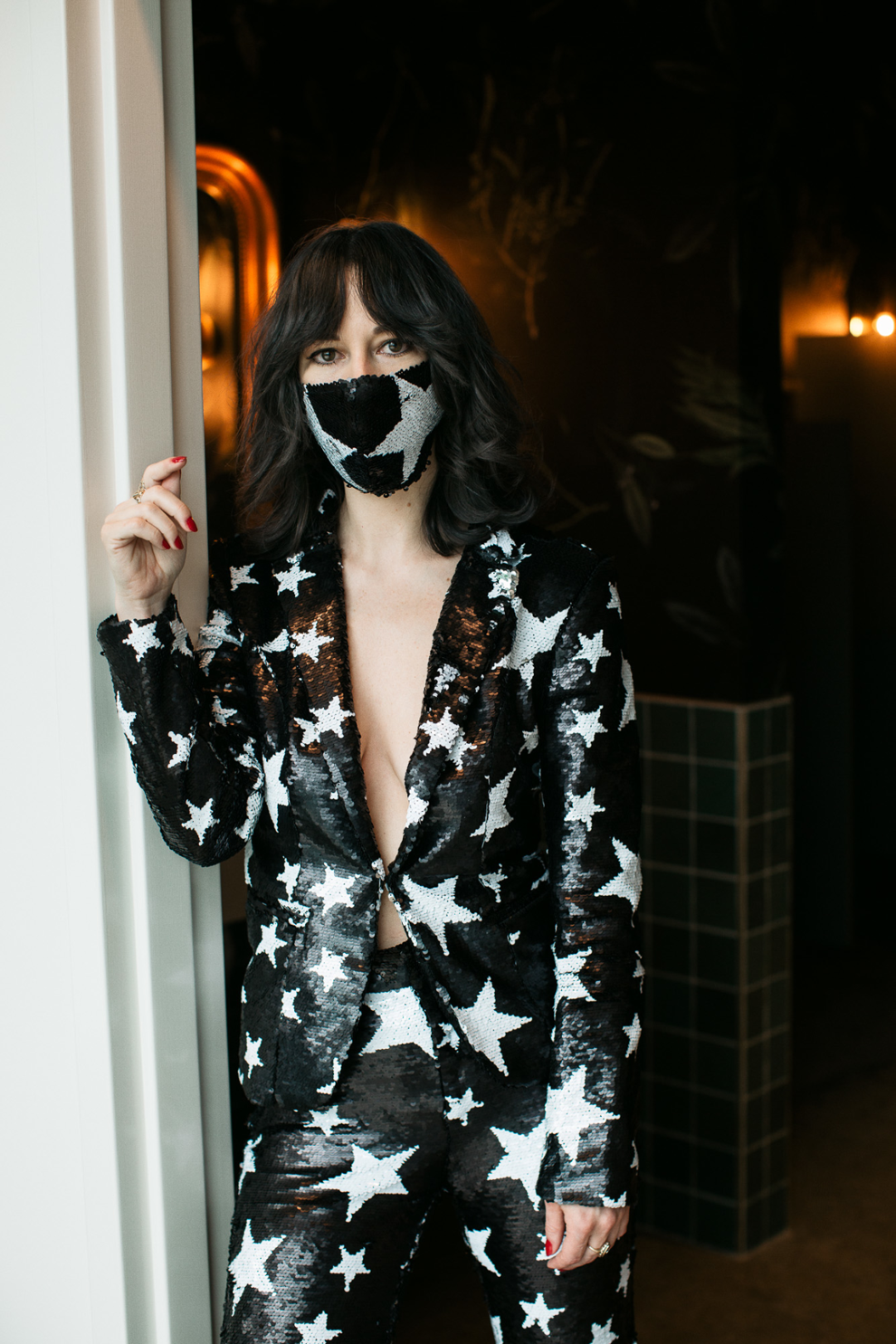 Any Old Iron
Designer: Andrew Clancey
Model: Laura Citron
Hair by Stan Newton, Jon Alan Salon
For a label intended to channel your inner rock star, it's no surprise Beyoncé, Lady Gaga and Elton John are all clients. When the pandemic hit, Andrew made 20 sequined masks to see how it would go, and they sold out in one day. They coordinate with the rest of his men's and women's pieces, including a black sequined suit with white stars. He's slated to open a store at 70 Music Square West this summer. He donates one mask to health care workers for every one he sells. www.anyoldiron.us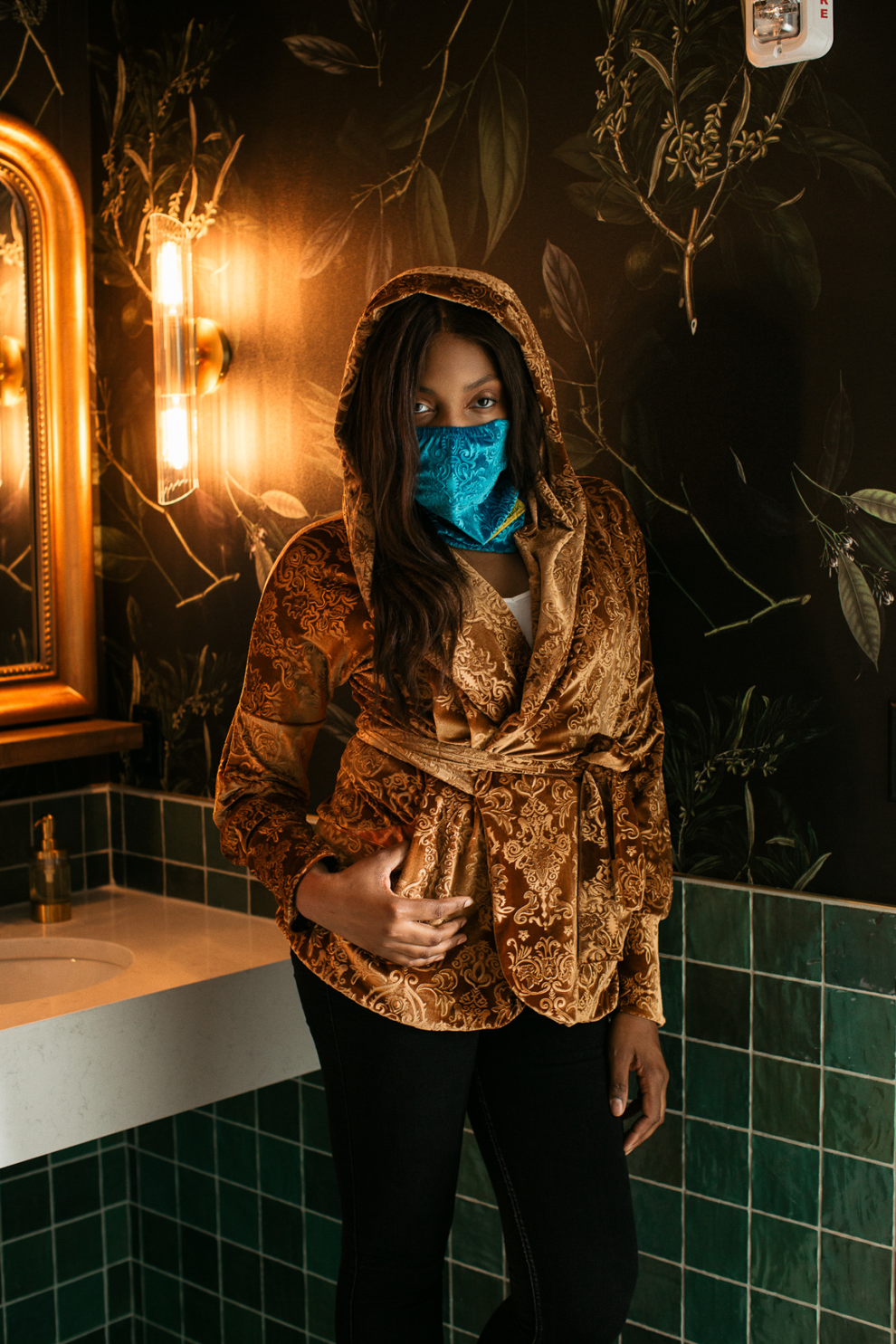 Lily Guilder
Designer: Caitlin Stolley
Model: Charika White, Tribe Talent
What could be more appropriate in these uncertain times than a Zen face shield? Guaranteed to turn anyone into a "kindness ninja," the embossed stretch performance velvet masks in black, aqua and dusty pink elevate any outfit. Masks come with a bright yellow ribbon inscribed with the words "You are beautiful." Caitlin suggests tying it on a door handle or somewhere you pass often. She has been making and donating cotton/spandex masks to medical professionals. The Zen shields can be purchased online and are carried at CRAFT hair+co. www.lilyguilderdesign.com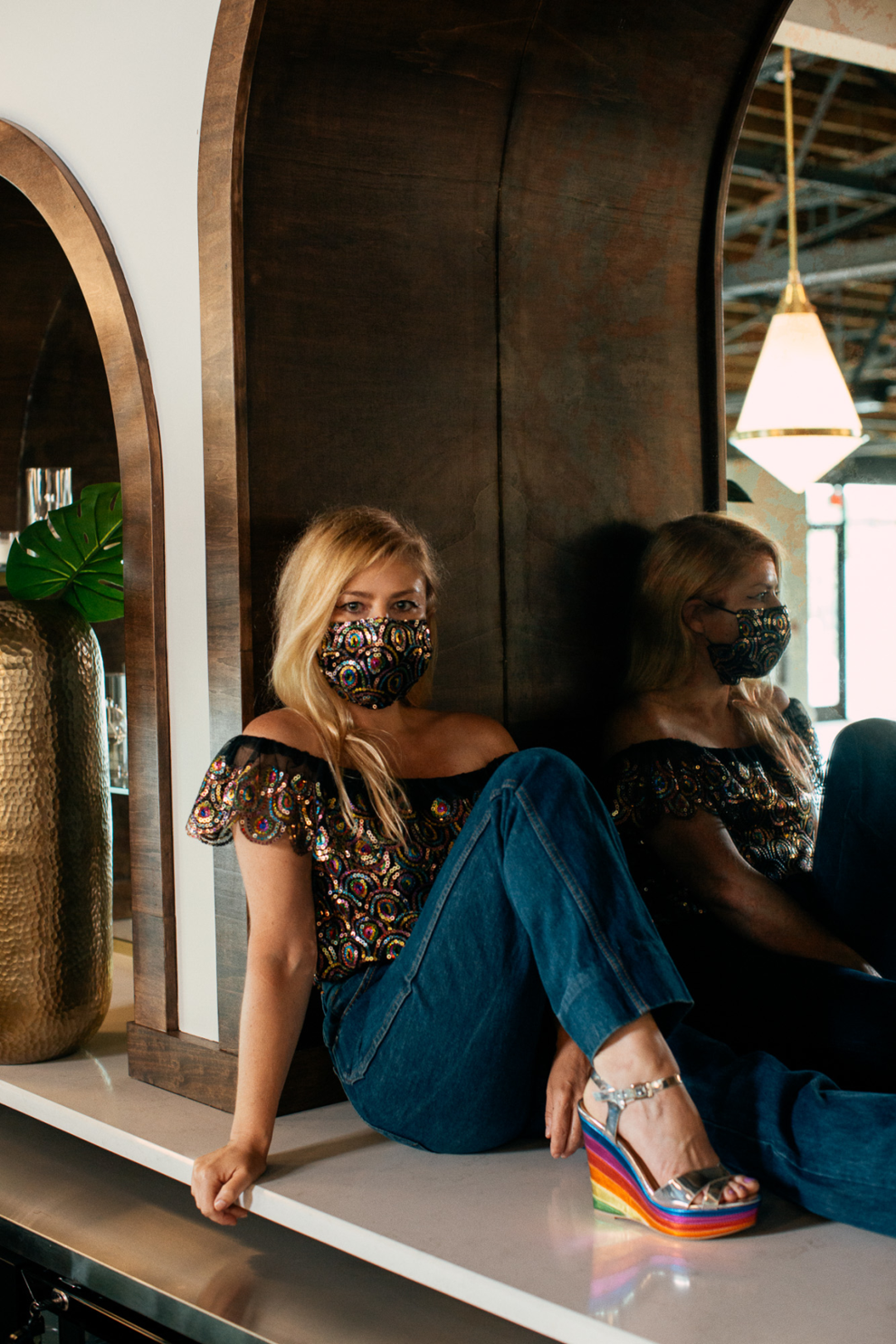 Ola Mai
Designer: Leslie Stephens
Model: Maggie Wells
Who can't use a little sparkle or fringe right about now? Designer Leslie Stephens sews and donates masks to Vanderbilt hospital and also donated 25 percent of mask sales in June to Teens for Equality, which organized a march in Nashville to peacefully protest police brutality. There's a rainbow sequined mask and a black fringed mask, both with an opening for filters. They are designed to not only offer some protection from COVID-19, but also to make the wearer feel beautiful. Her brightly colored designs, which promote a positive body image, do the same. www.olamaiclothing.com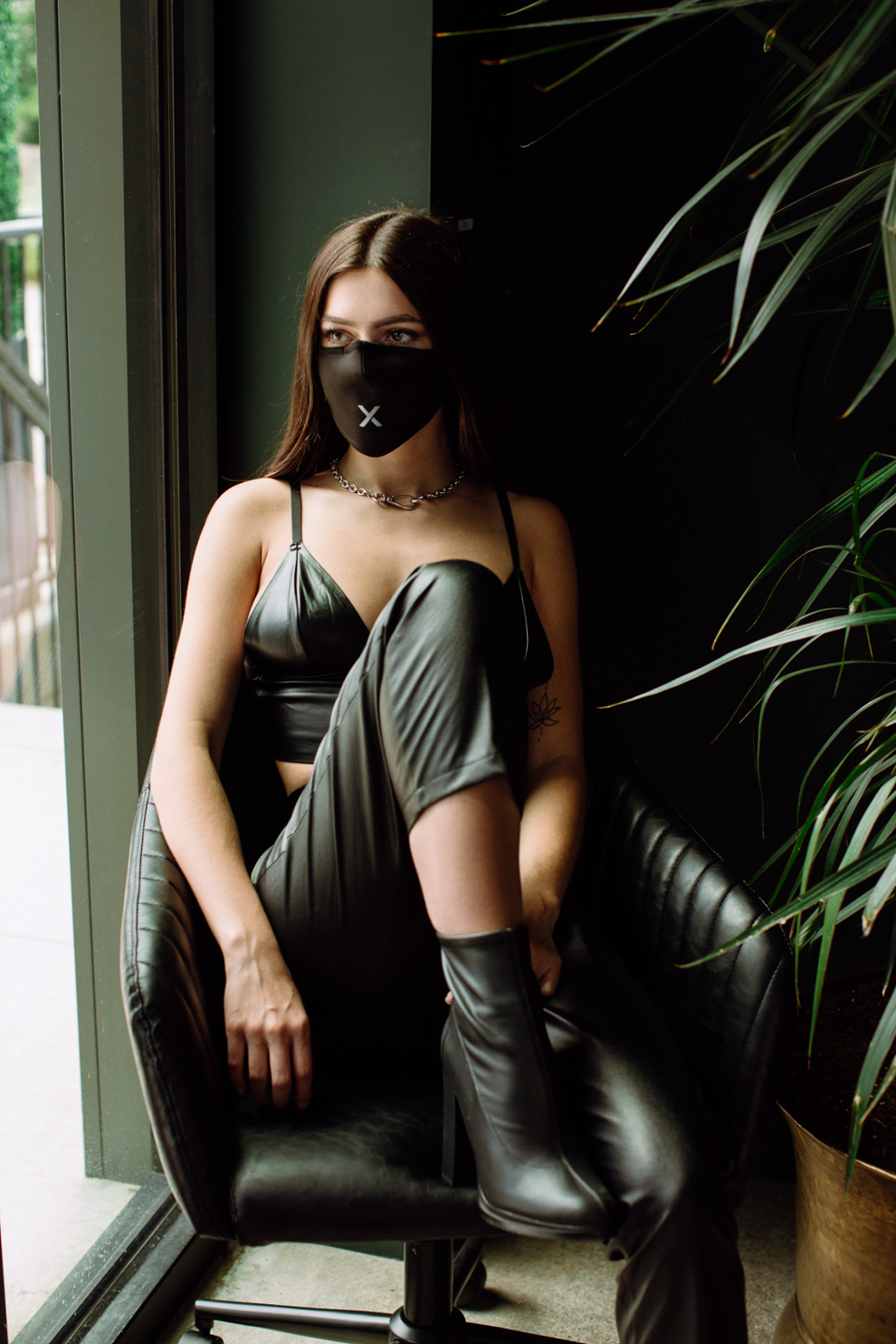 Article X
Designer: Emily Swinson
Model: Simone Zaccaria-Jeffers
You'll never be at a loss for words wearing Emily Swinson's designs. Featuring black and white graphic women's T-shirts and leather dresses, as well as unisex distressed tees "for the dark minimalist," it's fitting that her masks make a statement. Black masks with white block letters read, "OKAY BUT NO" and "DON'T." The polyester/spandex masks have a bendable nose wire and a pocket for a filter. For every mask sold, one will be donated to medical professionals in need. Masks are available on her website (www.article-x.com) or online at Posh Boutique (www.poshonline.com).
Photographer: Daniel Meigs
Art Director: Heather Pierce
Location: Saint Elle
Photography Assistant: Matthew Green