For Manuel Cuevas, fashion isn't a career; it's a calling. From the moment his older brother taught him to sew at the age of 7, he never looked back. He began making his own clothes at 7 and launched his own atelier at the age of 12. By the time the Mexican-born designer moved to America in his late teens, he was designing and selling hundreds of one-of-a-kind dresses and gowns each year. He trained with some of the greatest tailors and costumers in the world, including Edith Head, Sy Devore and Nudie Cohn, before eventually striking out on his own. A legendary designer with a staggering career, Manuel has worked with some of the biggest names in the world, including Michael Jackson, Prince, The Rolling Stones, The Beatles, Frank Sinatra and Dolly Parton. He's responsible for putting Johnny Cash in black and for creating Elvis Presley's iconic gold lamé jumpsuit. After seven decades as a designer, Manuel isn't showing any signs of slowing down. He continues to produce one-of-a-kind creations for a new crop of stars from his Nashville-based studio. The Rhinestone Rembrandt reflects back on his outstanding career, his notable clients and his humble beginnings.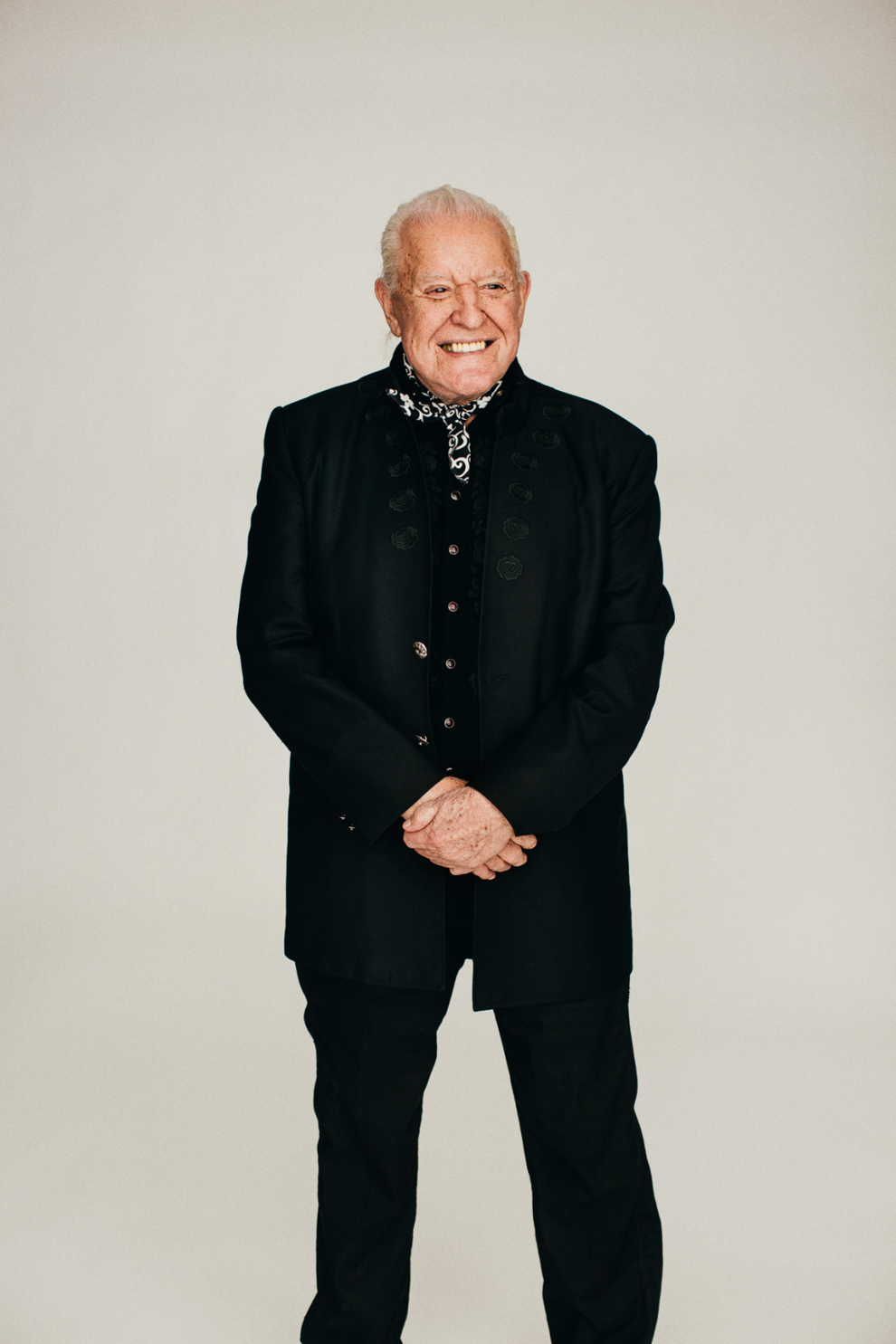 STYLE PHILOSOPHY
I'm not very fashion-inclined. I am more style-inclined, so I make one-of-a-kind [pieces] since the age of 12. I'm almost 83 years old, so I've been at it for years and years and years. Only one of a kind. I don't do two of anything, and that could be the reason I don't like socks. I do make boots, but I make a different one to the other. Not very noticeable, but I make them different just to keep the originality going.
DREAM CLIENT
I haven't made a suit for Obama, and I would like to. Just to make him a nice Western suit. I could show him a couple things.
FIRST CLIENT
First famous [client], it could've been Frank Sinatra, I guess. I didn't know who Frank Sinatra was, but he gave me a $1,000 tip, and in those years, that was a lot of money. I stuck it in my coat, and later, I had to find out who Frank Sinatra was. 
DESIGN PROCESS
It all depends on the character of the person. I really never know what to do for anybody unless I really talk to them, I measure them, I find them in my next outfit. I say, "This is what this guy needs." I really do what I think they need. They all have opinions, but the right thing comes along eventually.
JOB PERKS
Things that I have enjoyed or people I have enjoyed dressing were probably great friends like John Lennon, like Bob Dylan, like Mick Jagger, like Johnny Cash. Like Ronald Reagan — that was a fun guy to dress. LBJ too.  And Mr. George Walker Bush, I loved his ways. I dressed people like Pablo Picasso, Norman Mailer, Marlon Brando. But I'm proud, proud, proud of what I'm doing and what will be made today in my studio. I'm looking forward to the best piece.
BIGGEST INFLUENCE
Edith Head sure inspired me because she was daring. And Coco Chanel. I've known all of the designers forever, but what I like about them is they have their own style. It's not my thing, but I love what they do. So many innovations all the time. They inspire me. Really, they do.
BEST ADVICE
Money doesn't mean anything, that's what I learned. I know because everybody dreams of money. There is nothing better than health and love, and you can't buy them. They're free.
HUMBLE BEGINNINGS
At the age of 7, I started making shirts and pants and jackets, but then, dresses fascinated me and the girls didn't have that much fashion going. Their fashion was so repeated. I wasn't happy with that. Why not make one of a kind? So, I started with 77 dresses the first year of my so-called atelier when I was 12 years old.
CAREER PATH
When I started working for Sy Devore, I met Frank Sinatra — you name it, the whole Rat Pack — and I was making clothes for them, but it was really boring for me to make that kind of stuff. I saw something in the Rose Parade in Pasadena, and I just wanted to do something with more glitter, with more flamboyance, with more class, so I'm doing that today.
IN THE WORKS
There's a lot of clients that I'm working on. You have to see it when they wear the stuff, and then, if you like it, you ask them and they'll tell you it's a Manuel piece. I love that. But I don't really like to talk about my pieces until the day they wear it, and then, I can brag about it.
JOB SATISFACTION
I have never worked really an hour in my life. I just do what I love to do. My place is like a candy store. My studio. It's just fun. It is what you see, and you can touch whatever you want. Put it on.
THE MANUEL CLIENT
I do love when people have a great sense of appreciation for the pieces they've ordered. And when they receive them, they're so happy. That's all I care about.
FUTURE PLANS
In the very near future, I'm working on a fashion show in Nashville. I've got to talk to the bigwigs and see what they think, and if they don't have mentality for it, I'll just walk away. But I think they might walk away and say, "Let's do this." I want to make a fashion parade in Nashville.