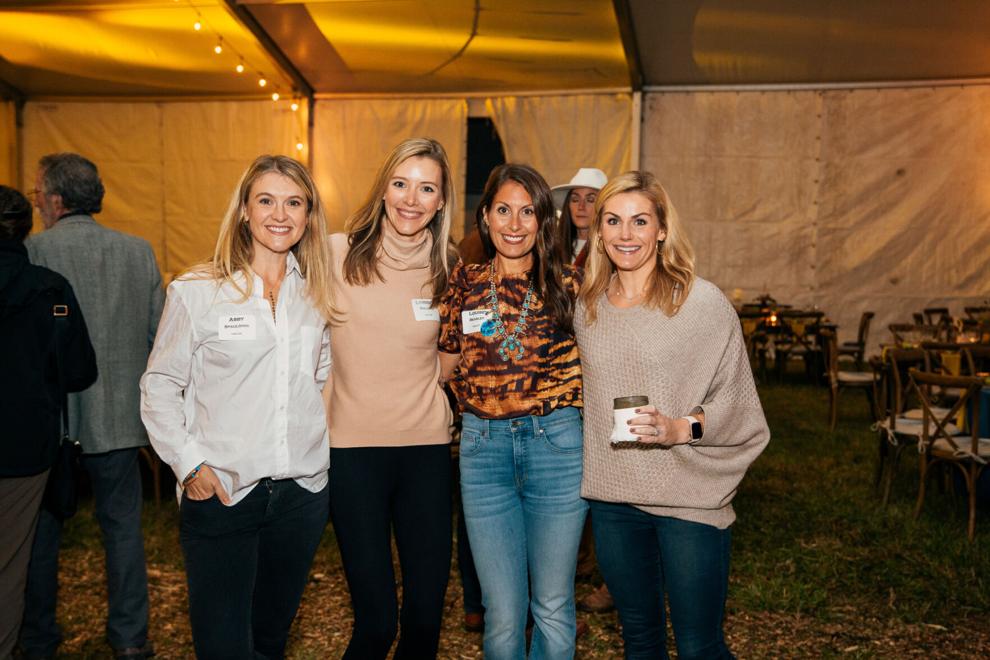 Mother Nature is clearly a fan of The Land Trust for Tennessee because, after a rainy Saturday afternoon, the clouds parted and the skies cleared just in time for the organization's annual (outdoor) fundraiser, Once in a Blue Moon. Guests donned boots, hats and jackets for the casual autumnal party at Glen Leven Farm, and it was a picture-perfect fall affair co-chaired by Louise Beasley and Rosemary McIlhenny.
While heading from their cars to the field, guests made a very important pit stop at the bar to try the evening's signature cocktail, a citrusy concoction anchored by Jack Daniel's No. 5. The cocktail and the passed appetizers were dreamed up by chef Kelsi Armijo from The Hermitage Hotel's new restaurant, Drusie & Darr. Leroy Powell of the Whiskey Wolves of the West played live music during the cocktail hour, providing a festive atmosphere for the casual party.
A mix of round and rectangular wooden tables were topped with candles and wildflowers in apothecary jars, all under the glow of string lights crisscrossing the tent. Adorable, shareable charcuterie trays were loaded with pickled vegetables, pimento cheese, smoked sausage, fresh breads and crackers. Guests enjoyed a fall wedge salad with apple cider-glazed tofu, curried deviled eggs and spiced pumpkin seeds before diving into an entrée of beef short ribs.
Paiton Ingram started the festivities with the traditional singing of "God Bless America," followed by a prayer of thanks from Doris McMillan of the Tennessee Historical Commission. Throughout the meal, guests also watched a short film recounting The Land Trust's incredible conservation efforts and heard remarks from Chattanooga Mayor Tim Kelly.
As dinner came to a close, the massive bonfire — which took nearly a month to assemble — was lit outside. Guests snacked on mini doughnuts from Ellie's, sipped hot apple cider and toasted s'mores over the fire. It was a spectacular evening, but more importantly, it raised critical funds for The Land Trust's mission to preserve Tennessee landscapes, an effort that has helped protect more than 130,000 acres to date.