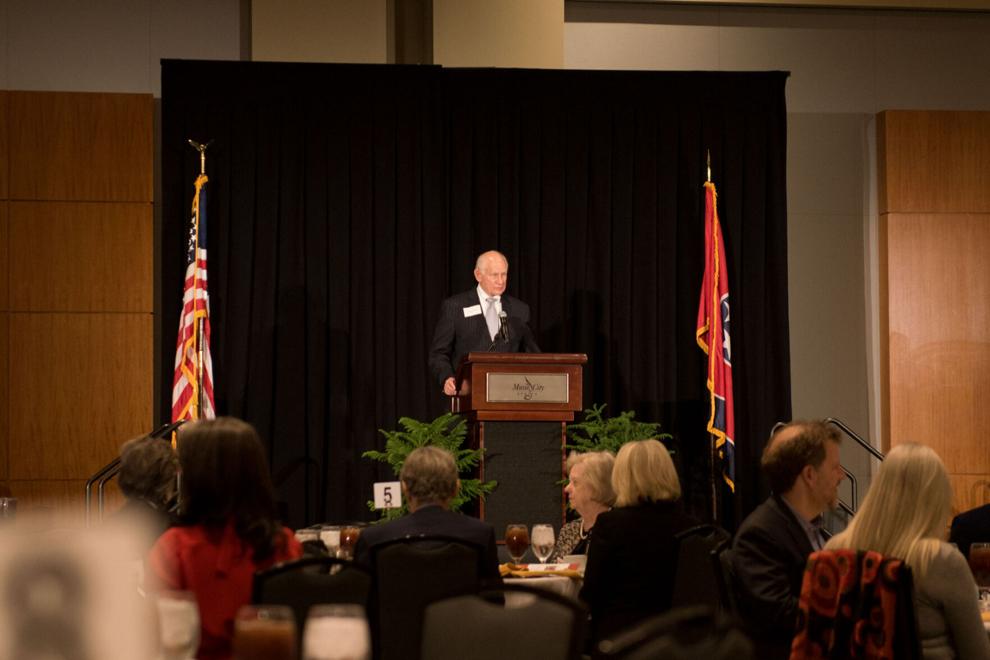 Music City Center's Davidson Ballroom was abuzz on a warm December morning as supporters of The Community Foundation of Middle Tennessee (CFMT) and family and friends of business and community leaders Susan and Luke Simons joined together for the presentation of the 27th annual Joe Kraft Humanitarian Award. Susan and Luke were named the recipients of this year's award for their "generous philanthropy in the arts and health care and for their tireless service with numerous nonprofit organizations in Nashville and beyond."
Aubrey Harwell, Charles Starks, Vic Alexander and Ellen Lehman took to the stage to recognize the couple before inviting guests to catch up with friends and enjoy their lunch of salmon on greens, with tiramisu and coffee for dessert. Everyone's attention turned to the big screens for a touching tribute video — produced by CFMT's Pat Embry and Morgan Yingling — that included the couple's story and interviews with friends, family, colleagues and recipients of the duo's generosity throughout the years, including Martha Ingram, Jeff Balser, Jim Haslam and many more.
After the video, CFMT Board Chair Decosta Jenkins spoke about Susan and Luke's impact on Nashville as a whole and Susan's time on the board, particularly her efforts on the building committee, ensuring the completion of the organization's future home at the corner of Woodmont Avenue and Belmont Boulevard. He presented her with a carefully curated piece of art from Kitras Art Glass in Ontario, as her deep passion for and collection of art is well known in the community. Susan then spoke about several issues that mean a lot to her, including welcoming new people to Nashville and cancer research. She thanked everyone for coming and encouraged them by reminding them that their tickets to the event helped support the Vanderbilt-Ingram Cancer Center.