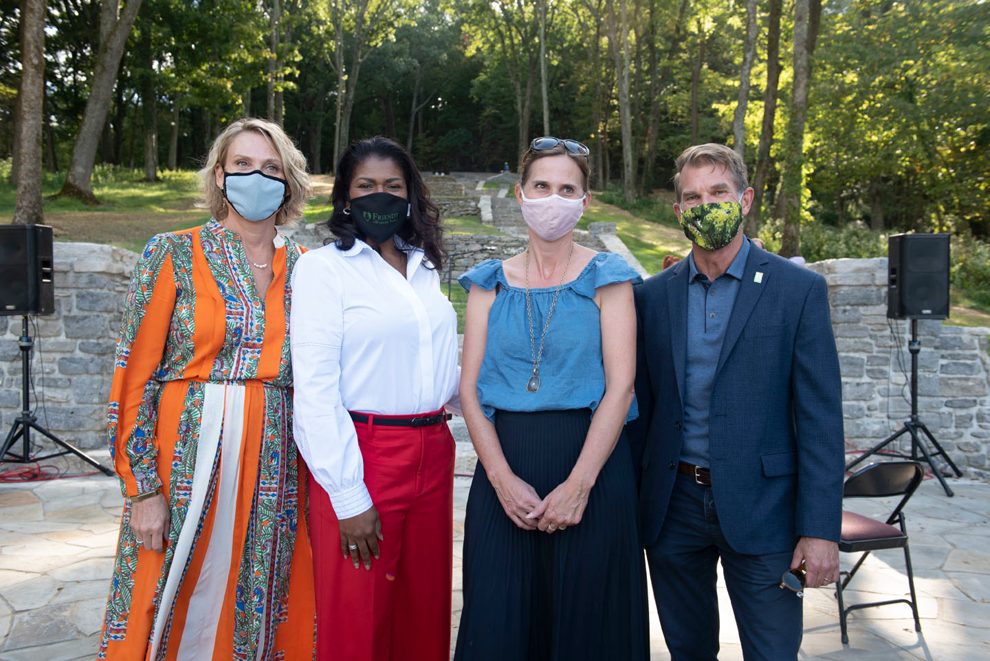 After months of work to the historic limestone steps at the entrance to Percy Warner Park, the Friends of Warner Parks held a dedication ceremony to reopen them to the public. It was a perfect fall afternoon for the donors, city officials, contractors and Warner family descendants, who gathered on the restored Allée to celebrate the achievement.
The Allée, designed by renowned architect Bryant Fleming, opened to the public in 1936 and serves as the transition from the formal Belle Meade entrance to the natural setting above. It is listed on the National Register of Historic Places and was essential to Warner Parks also receiving the designation. Thousands of hikers and runners have ascended the steps, and an equal number of graduates, brides and babies have posed on them for photos.
Needless to say, after almost 100 years of wear and tear, significant repairs were needed to restore and enhance the important site while respecting its legacy. Much of the original limestone and bluestone was reused, with a few exceptions, such as the sandstone pavers found in the walkway and at the flagpole plaza, which provide safer footing for pedestrians. Even under the most normal circumstances, the project would be remarkable. The public-private effort brought together Nashville Metro Parks and Recreation and the Metropolitan Historical Commission with Friends leadership, private donors and volunteers to complete it on time and under budget. In addition to the masonry work and drainage improvements, 30 surrounding acres of woodland were cleared of invasive plants to make room for native wildflowers and other plants specific to the Warner Parks. 
Following the dedication ceremony, guests took a ceremonial walk up the steps, certain to be the first of many on the newly restored Allée. Now, this iconic symbol of Warner Parks and the city is preserved and protected for the one million-plus annual visitors, as well as for future generations, to enjoy.