Want to get out with your pup this month? There's an event for that. Looking for something to do with the kids? There's an event for that too. In fact, there's a little something for everyone with these May fundraisers. Mark your calendars now to participate in these virtual and socially distanced happenings.
Music City Grand Prix Auction
Fri., May 14
If you've ever wanted to get close to fast cars, this is your chance! The Big Machine Music City Grand Prix has partnered with Martha O'Bryan Center and donated one-of-a-kind experiences — like zooming around Nashville's racetrack in an IndyCar driven by a professional driver — for an exciting online auction with 100% of the proceeds going to the nonprofit. Click here and get ready to bid.
Picnic With the Library
Sun., May 16
There's lots of family-friendly fun in these at-home picnic packages from Nashville Public Library with Alice in Wonderland-themed games, crafts, snacks and more, as well as access to a special interactive virtual performance by Wishing Chair Productions, the library's resident puppet troupe. Speaking of puppets, take a chance at the Puppet Truck Raffle to win a private performance at your home. All the details can be found here.
Power of the Purse
Wed., May 19, 11:30 a.m.
The Women's Fund of The Community Foundation of Middle Tennessee will be hosting its popular luncheon virtually this year from the Bluebird Cafe. Tune in for an intimate conversation as songwriters Aimee Mayo, RaeLynn and Regina McCrary share the stories that have shaped their success with host Jennifer Vickery Smith. Tickets for this unique "in-the-round" event can be purchased here.
Spring Outing
Wed., May 19, 12 p.m.
What began as a picnic on the lawn at Andrew Jackson's Hermitage 120 years ago will be virtual for this year's annual Spring Outing. During "Glimpses of My Grandfather, The President," Clifton Truman Daniel, grandson of U.S. President Harry S. Truman and First Lady Bess Truman, will share stories, insight and perspective on what it means to have a U.S. President in the family tree. Tickets can be purchased here.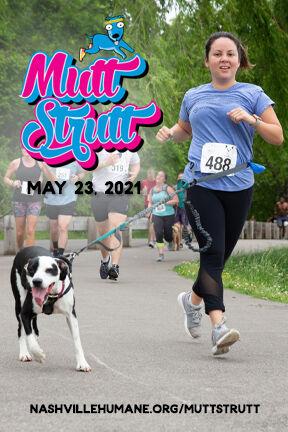 Music City Mutt Strutt
Sun., May 23, 8 a.m.
Nashville Humane Association's open-air event is perfect for those who are ready to get out! Dress up yourself and your pooch and head to Shelby Bottoms for the slightly modified 5K, with staggered start times. There's also a "virtu-woof" option that comes with the course map and ways to post your photos. Either way, you're raising funds for Nashville Humane's homeless and adoptable shelter pets by signing up to strut here.