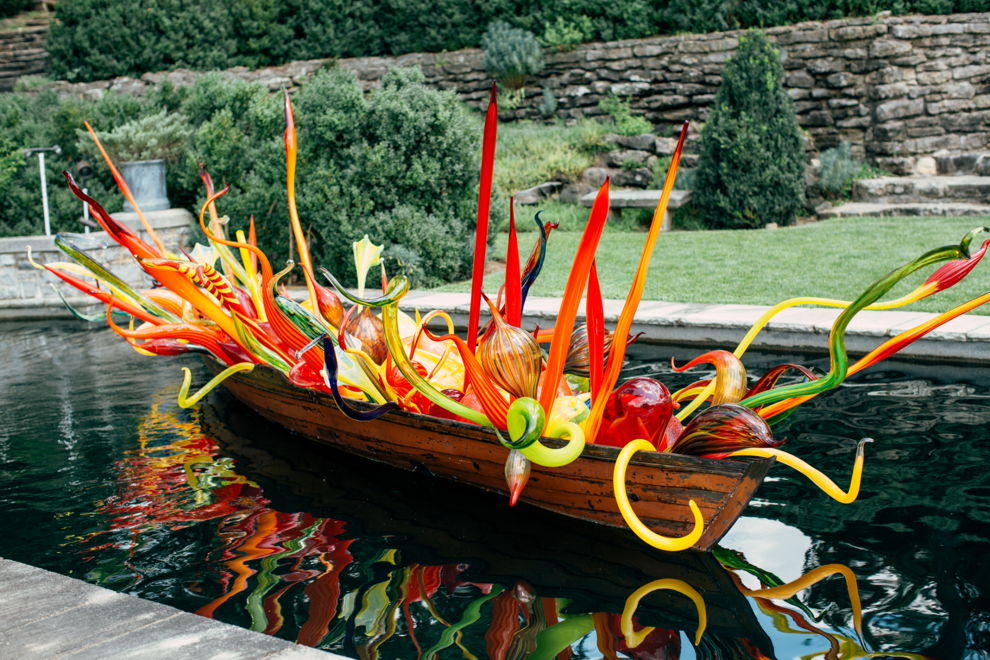 Chihuly is back at Cheekwood! The stunning display of glass art opened at the end of July, and Cheekwood members masked up and headed to the gardens on a special Member Monday for a chance to view the completed Chihuly at Cheekwood exhibit before anyone else.
As the admirers strolled through the trails and gardens and made their way into the mansion, they found colorful glass sculptures around every corner. Some sculptures, such as Scarlet and Yellow Icicle Tower, Summer Sun or Sapphire Star, stand tall and radiant in the sun, and others, such as Cattails and Copper Birch Reeds, Fiori Boat or White Belugas, sprawl across the ground as though they are part of the extravagant flora of the gardens.
Members got a sneak peek at some brand new works of art, such as the Golden Amber Persian Chandelier, a massive multi-piece installation hanging in the mansion's loggia. In the galleries, guests were able to experience indoor pieces created by Dale Chihuly, including an example in neon, which is the only medium in which his work is self-illuminated. The rest of his works rely on external light sources, such as the sun or specifically placed and angled lighting. There's even an important part of the exhibit that showcases his work in 2D, rather than the usual three-dimensional sculptures.
Originally slated for an April opening, the Chihuly exhibit was postponed until July for health and safety reasons. It couldn't have arrived at a better time as the exhibit gave Nashvillians an opportunity to get outside and experience art and nature together (from a safe distance, of course). The exhibit — including Chihuly Nights, which offers the opportunity to see the pieces illuminated after dark — will be around until January 10, 2021, which means you'll also get to experience the exhibit alongside Cheekwood's Holiday Lights later this year.