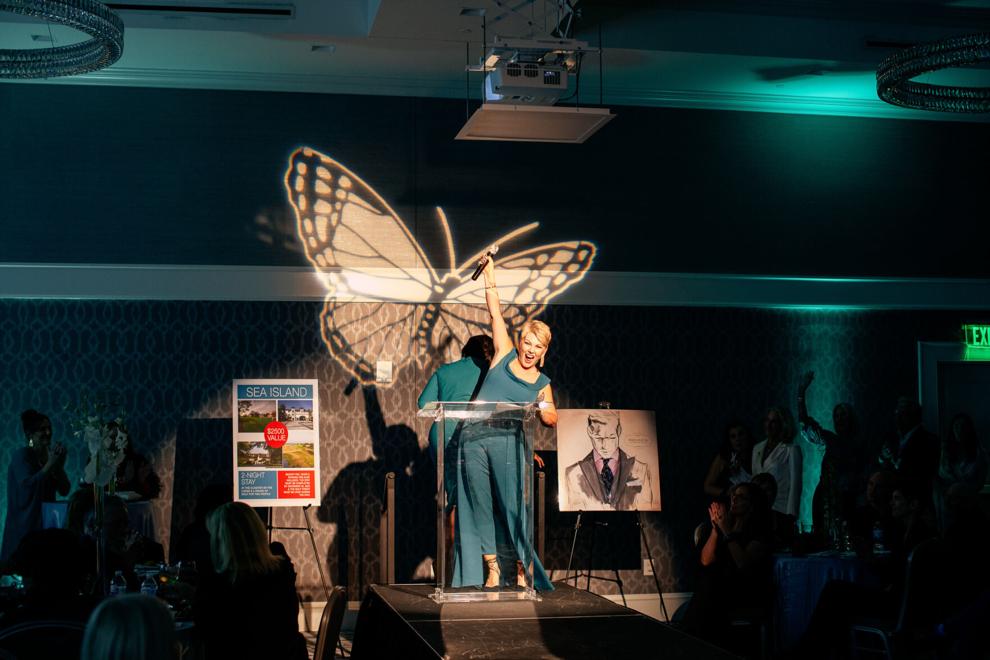 After missing a year due to COVID-19 and a postponement when cases surged in the fall, Chic Awearness came back with its customary flair for raising funds for ovarian cancer research. The eighth annual fashion show brought with it a new collaboration with Vanderbilt-Ingram Cancer Center (VICC) and a new venue, the Hilton Nashville Green Hills, which allowed for a record-breaking crowd of more than 260 guests.
With teal as the color for ovarian cancer awareness, it was everywhere, from Founder and Chair Marci Houff's elegant gown to rhinestone ribbons worn by board members to the signature drink, a sparkling libation called the Butterfly Kiss. Guests checked out the silent auction and snacked on crab cakes and sliders before gathering in the standing room-only ballroom for the program.
The third annual Frances Hill Caldwell Jackson Courage Award went posthumously to Memarie Gayle Jobe. Active in Chic Awearness, Memarie was a past Speaker Survivor, model, board member and friend to many in the room. A video offered stories from survivors, supporters and medical professionals. As the Ovarian Cancer Thriver, Cindy Hemby shared her story of strength, determination and power while fighting the devastating disease since her initial diagnosis in 2009.
Then, it was time for the fashion show. Ovarian cancer survivors and supporters strutted down the runway dressed in the latest fashions from some of Nashville's favorite boutiques: Emerson Grace, Gus Mayer, H. Audrey, Levy's, J. Michaels Clothiers, Peter Millar and Stitch-It & Co. Models included Marci's "chief supporter" and husband, Stephen, and Cindy's husband, Ron.
Chic Awearness' collaboration with VICC is one of fewer than 10 internal events supported by the medical center. VICC gynecologic oncologist Ronnie Alvarez called the partnership an "investment," which will provide advocacy, help for patients navigating their journeys and fundraising to support treatment research. This year's event was the most successful yet, with a record-breaking amount raised to beat ovarian cancer.