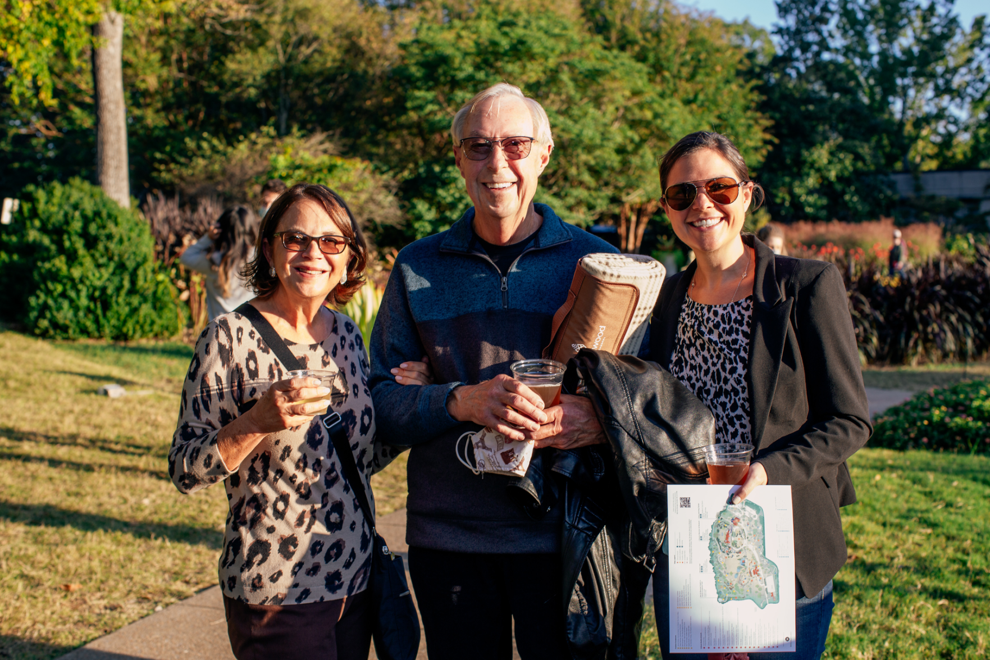 As an exciting start to the new season, supporters of Cheekwood came together after hours for an exclusive and intimate evening at the gardens and mansion for the Fall for Chihuly Family Benefit. While patrons have enjoyed Fall for Cheekwood the last few years, the 2020 party took on a different identity to celebrate the ongoing Chihuly at Cheekwood exhibit. Not only did the partygoers get a quiet, distanced night to enjoy Dale Chihuly's artwork throughout the gardens and mansion, they were also able to enjoy Cheekwood Harvest, complete with the beloved 11-foot-tall Pumpkin House.
Like most things this year, the event was a little different in more than just name, but that didn't make it any less special. As patrons walked through the gates, they were presented with rainbow bark from Bang Candy Company and an adorable plaid Cheekwood picnic blanket for enjoying their cocktails and boxed dinner, which was provided by Chef's Market and included cheeseburger sliders, Tennessee cheesestraw chicken tenders, smoked gouda macaroni and cheese and a berry berry good salad. And to top it off, the weather was perfect for a fall-themed picnic at sunset on the lawn — a relief from the last few years of sweltering heat at this time.
An online auction gave everyone a chance to bid on exclusive Cheekwood experiences, such as a private group yoga nidra and sound bath session in the Japanese garden and a commissioned painting of their favorite outdoor space. The big-ticket item, though, was a home garden consultation with Peter Grimaldi, Cheekwood's vice president of gardens and facilities. As usual, the proceeds from Fall for Chihuly and the online auction went to support Cheekwood's education programs for Middle Tennessee schools, which allow thousands of students across the region to enjoy the history and beauty of the 55-acre property and mansion completely free of charge.