Another dazzling year on Nashville's social scene has come and gone, but before we fully let go of 2019, let's relive some of the most memorable moments, shall we? No one knows more about what makes a party a success than the tastemakers who comprise the Nfocus audience, so we asked you to weigh in on your favorites. And since no one knows more about attending parties than our Nfocus staff, we chose some of our highlights as well. Keep reading to find out what events stood out to our readers, which details charmed our writers and whether your personal favorites made the cut.
Readers' Choice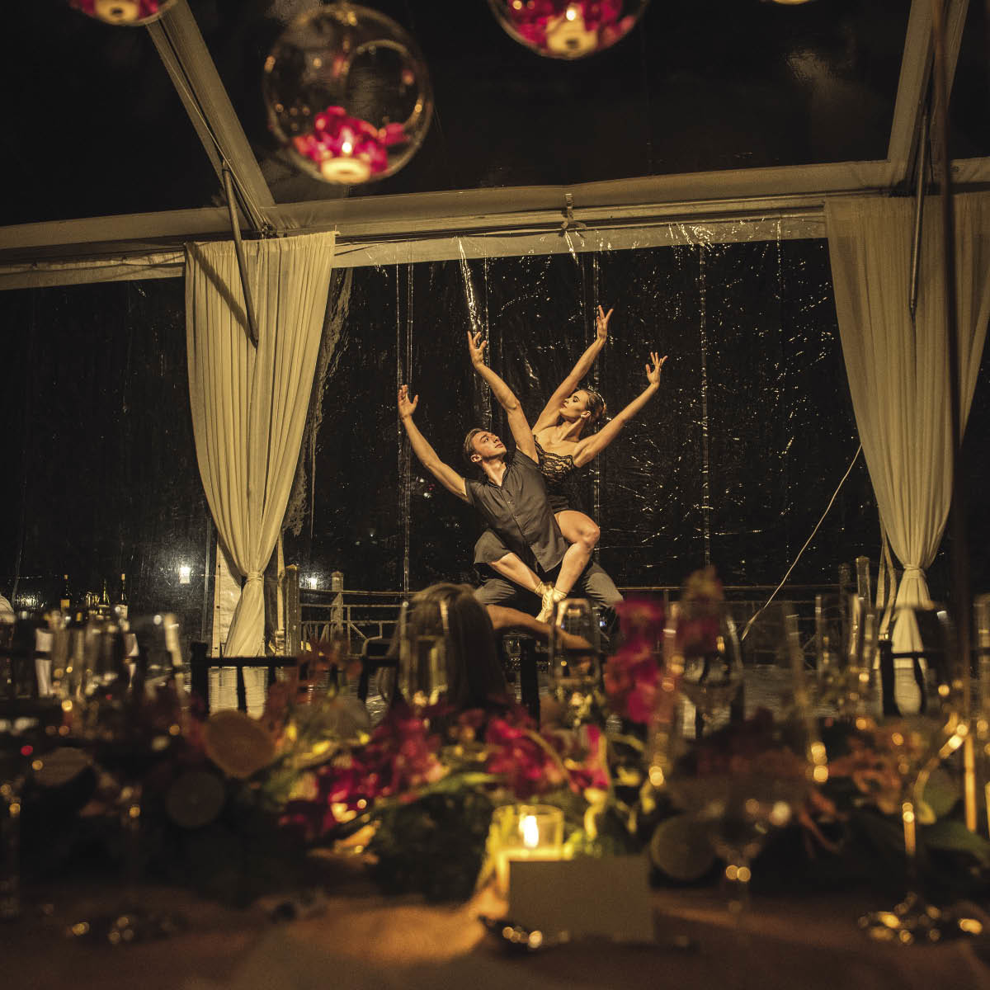 Best Party
1. Conservancy Gala
2. Once in a Blue Moon
3. Ballet Ball
Most Inspired Co-Chair Team
1. Amy Atkinson and Amos Gott (Ballet Ball)
2. Josephine VanDevender and Trish Munro (Conservancy Gala)
3. Bonnie Cross and Caroline Smith (Once in a Blue Moon)
Best Party Favor
1. 1897 Centennial Exposition note cards (Conservancy Gala) and Swag Bags (Spring Soirée) (TIE)
2. Notepad (Swan Ball)
3. Crumpled Greenways map (Dinner by the Bridge)
Best Decorations
1. Conservancy Gala
2. Ballet Ball
3. Red Door Bash
Best Auction Item
1. 2020 Bordeaux Wine Dinner (Broadway Brunch)
2. Dinner on the back porch of Andrew Jackson's Hermitage (Hermitage Gala)
3. Breakfast at Tiffany's (Comedy for a Cause)
Best Women's Event
1. Power of the Purse
2. Friends and Fashion
3. Chic Awearness
Most Fun Party
1. Conservancy Gala
2. Ballet Ball
3. Spring Soirée
Best Special Guest
1. Chip Esten (Broadway Brunch)
2. Little Big Town (Great Futures Gala)
3. Kelsea Ballerini (Symphony Ball)
Best Children's Event
1. Picnic with the Library
2. Auntie Claus at Nashville Children's Theatre and Breakfast with Santa at Belmont Mansion (TIE)
3. Fall for Cheekwood
Best Luncheon
1. Hermitage Spring Outing
2. Sunday in the Park
3. Most Powerful Women
Best-Dressed Party Guests
1. Sylvia Rapoport
2. Allen DeCuyper and Steve Sirls
3. Sandra Lipman
Craziest/Funniest/Best Sight or Activity at a Party
1. Aerialists, stilt walkers and jugglers (Promise Gala)
2. Dancing competition (Dancing for Safe Haven)
3. Bonfire (Once in a Blue Moon)
Best Animal-Centric Event
1. Sunset Safari
2. Cause for Paws
3. Dinner in the Forest and Unleashed (TIE)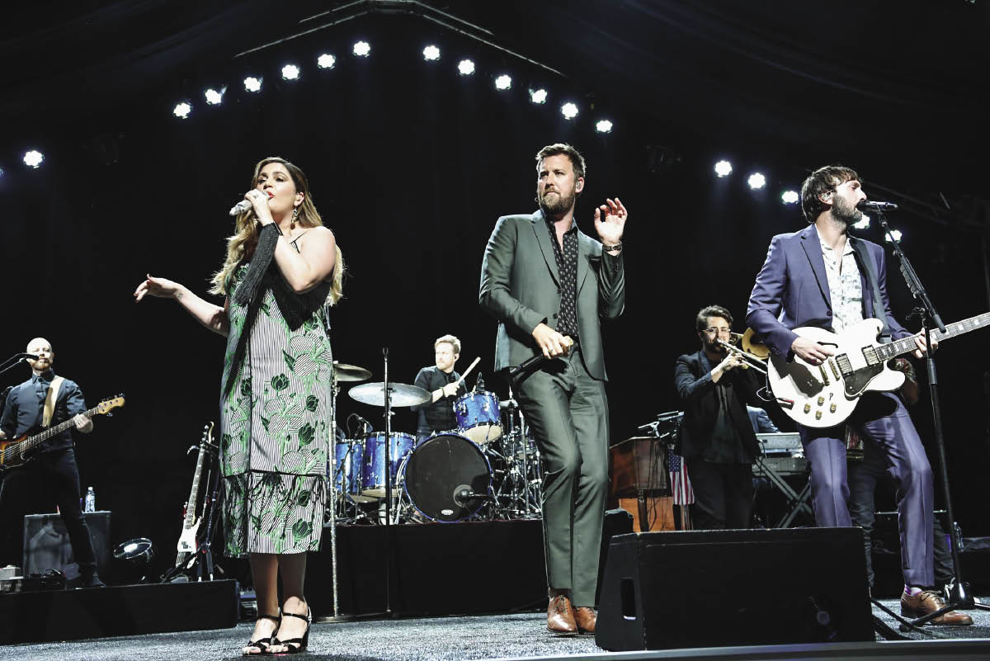 Best Entertainment
1. Lady Antebellum (Swan Ball)
2. John Hermann, Ketch Secor, Joe Andrews, Tom Landstreet, JB Strauss and more (River Swing) and Louis York and The Shindellas with the Nashville Ballet (Ballet Ball) (TIE)
3. Tim McGraw (A Little Night of Music)
Best Menu
1. Literary Award Gala
2. Ballet Ball
3. Red Door Bash
Best Event Planner
1. Big Events
2. Amos Gott
3. Bruce Pittman and Hugh Howser (TIE)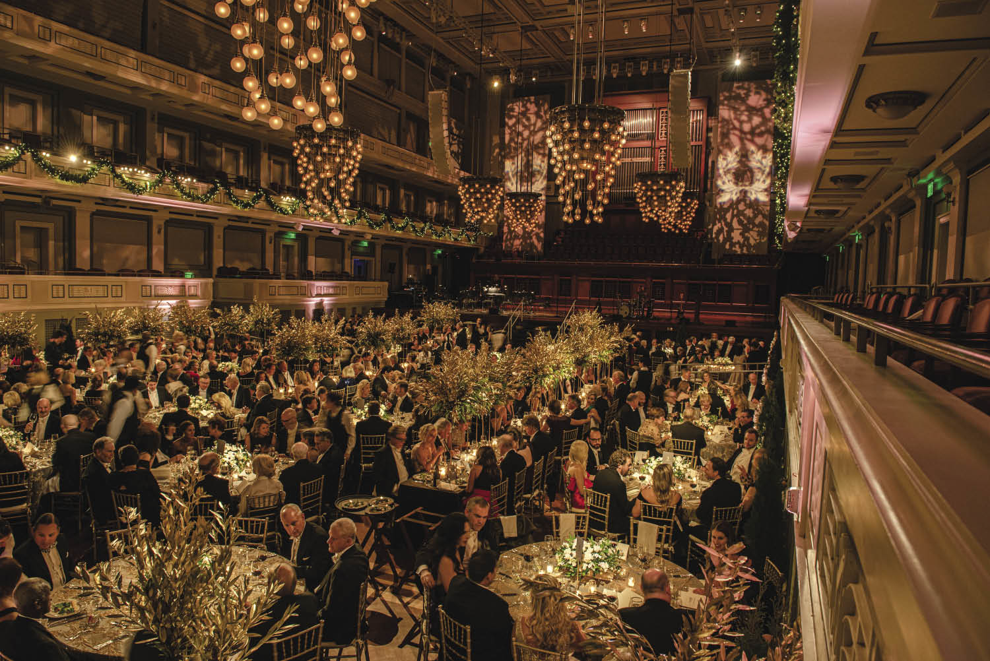 Best Event Venue
1. Schermerhorn Symphony Center
2. Omni Nashville Hotel
3. Cheekwood Estate & Gardens and Country Music Hall of Fame (TIE)
Best Caterer
1. G Catering
2. Kristen Winston
3. Puckett's
Best Florist
1. Big Events Floral
2. Amos Gott
3. The Tulip Tree
Writers' Choice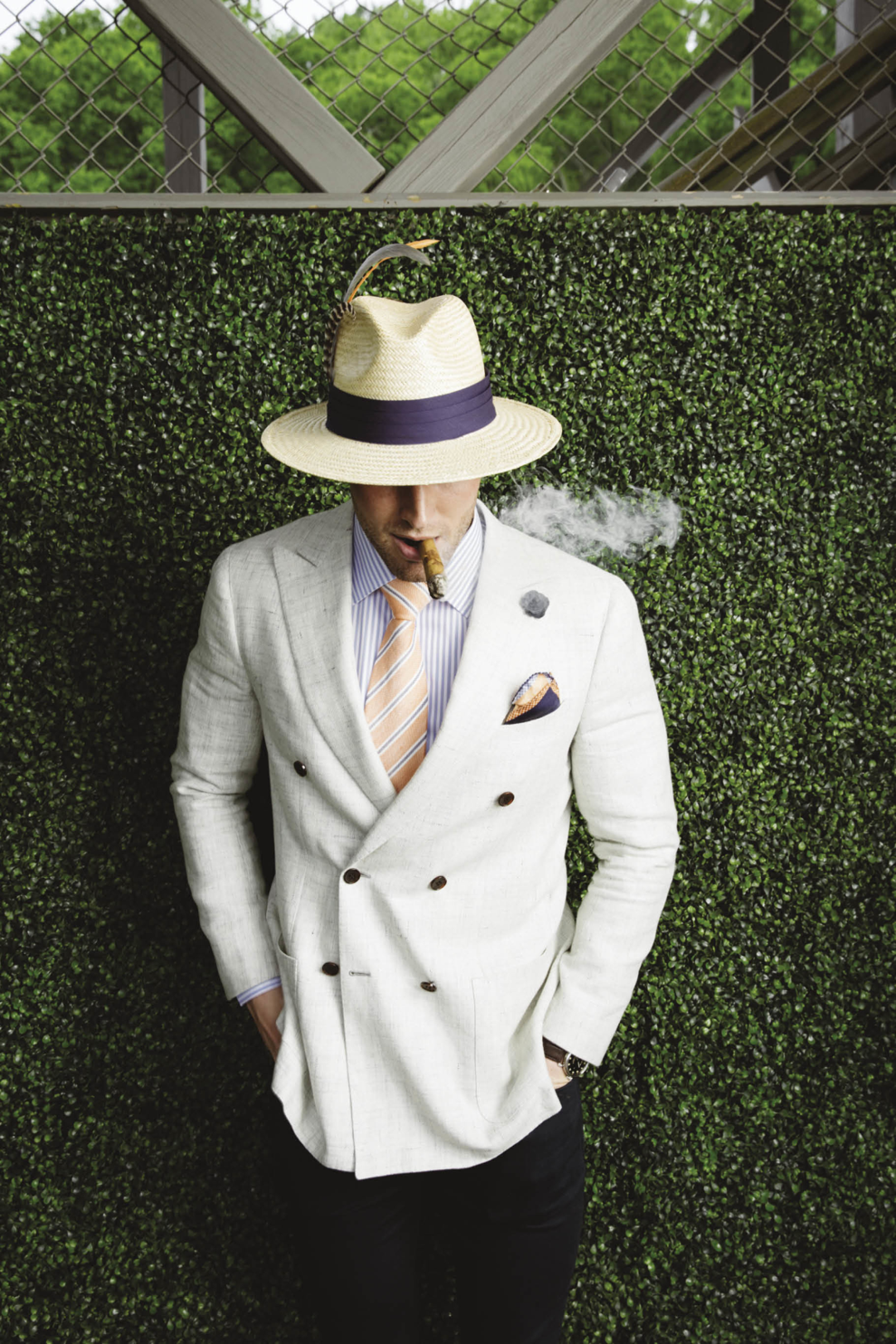 Best-Dressed Crowd
Iroquois Steeplechase
Despite the gray skies and looming threat of rain, spectators at the Iroquois Steeplechase still showed up in their most spectacular spring finery for a day at the races. We had a never-ending line at our Nfocus Portrait Studio to capture all of the dapper looks. We can't wait to see the fashions in 2020, especially since we'll be running the Steeplechase Style Contest on Race Day. It's never too early to start planning your outfit!
Best Event for Style Inspiration
Symphony Fashion Show
We know that thou shalt not covet, but it's hard not to crave every look that comes down the runway at the Symphony Fashion Show. In 2019, the House of Herrera returned to the mirrored runway with one swoon-worthy gown after another from Wes Gordon, creative director for the fashion house. Thanks to a trunk show at Gus Mayer, a lot of lucky ladies walked away with a stunning new number in hand.
Best Homecoming
Swan Ball
It's typical for Swan Ball co-chairs to draw inspiration from the lush landscape at Cheekwood's botanical gardens for the white-tie gala, but this year Jana Davis and Ellen Martin looked indoors for creative ideas. By designing the dinner tent to look like an extension of the Country Era estate instead of the gardens themselves, Jana and Ellen offered something fresh and unique, and the fact that it was executed flawlessly made the evening that much more memorable.
Best Surprise Guest
Reba McEntire/Heritage Ball
Co-chairs Tracy and Bill Frist breathed new life into Williamson County's beloved black-tie ball, managing to make it even more sophisticated and glamorous in the process. Adding entertainment by Kix Brooks elevated the event even more, but it was the surprise performance by Reba McEntire that had everyone talking. The country superstar charmed the crowd when she joined Kix on stage, and the pair served as a great reminder of all the incredible talent to be found in our own backyard.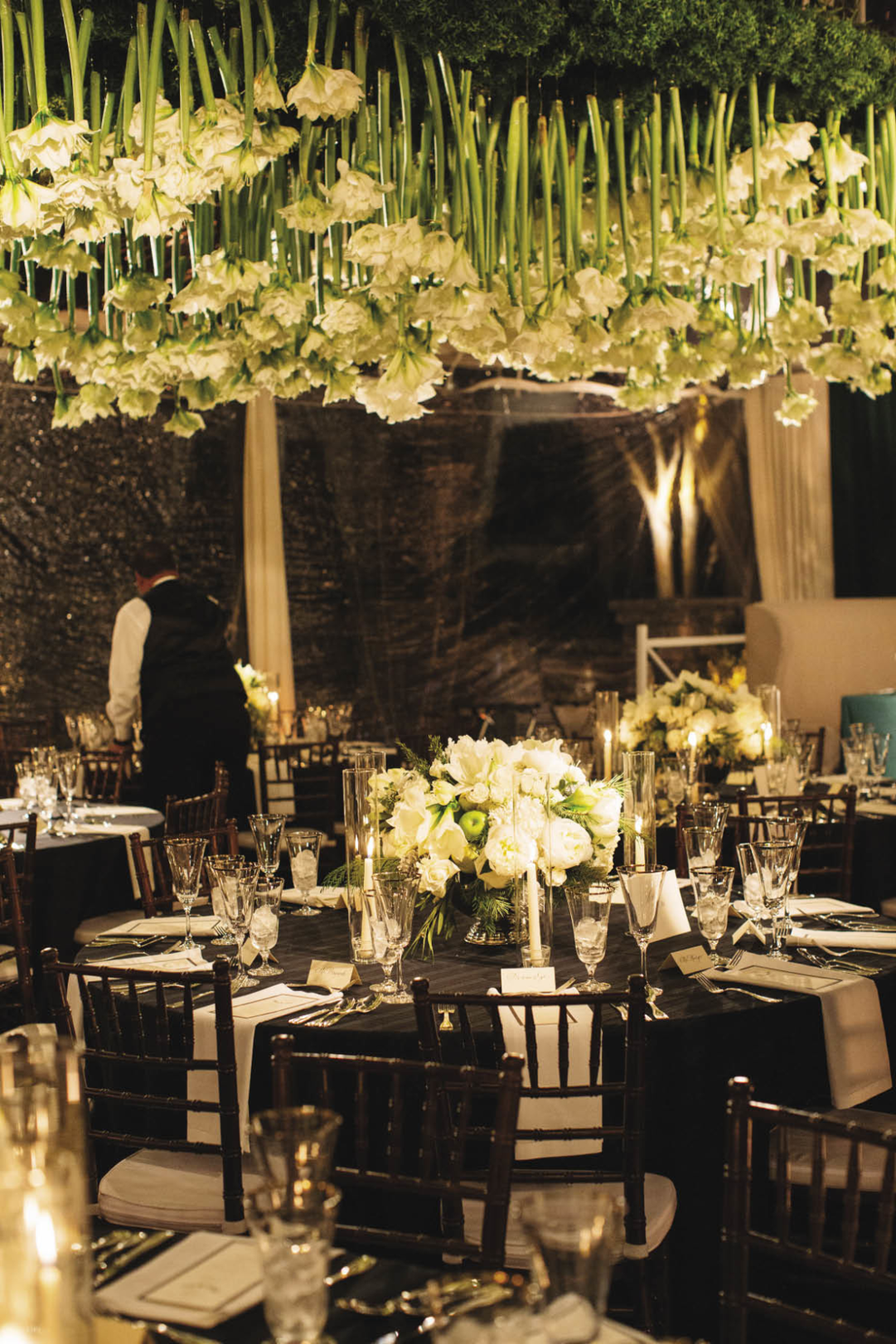 Prettiest Patrons Party
Symphony Ball Patrons Party
Hugh Howser really outdid himself at the Symphony Ball Patrons Party, and it was evident from the look of admiration on guests' faces as they entered the tent. A canopy of white amaryllis — a flower Hugh chose because it reminded him of a trumpet — hung overhead tables topped with lush white florals. The patrons party was just a precursor to the stunning white-tie gala, which Hugh also designed, but this intimate dinner certainly didn't play second fiddle to the ball itself.
Most Committed Theme
Unleashed
We love a good theme party, especially one where guests truly commit, and that was never more evident than at Nashville Humane Association's Unleashed dinner. Guests latched on to the '80s theme, showing up and showing off in mullet wigs, puffy-sleeved prom dresses and neon galore. Even their doggy dates got into the spirit, with pups sporting everything from piano ties to leg warmers. It was a totally tubular night!
Most Fascinating Guest Speaker
Joel Sartore/Call of the Wild Luncheon
How do you top Jack Hanna, the featured speaker at the Nashville Zoo's inaugural Call of the Wild Luncheon in 2018? Simply invite Joel Sartore, a National Geographic photographer, author and conservationist. For the past 14 years, Joel has worked on a project to capture portraits of every living species in captivity in the world. The luncheon's audience sat in rapt attention as he shared his remarkable photos and even more remarkable anecdotes about photographing some of the world's rarest, deadliest and cutest animals.
Best Collaboration
7x7
It's always inspiring to see artists work together, regardless of their medium, but the 7x7 arts event this summer took that collaboration to the next level. Seven photographers and seven visual artists were paired up at random to create an original piece of artwork in less than one day. Not to mention, a videographer was on hand to capture it all and edit a video of the creative process, overlaid with an original score written that same day, to present that evening at an unveiling event. The event was an uplifting reminder that we are all better and stronger when we work together.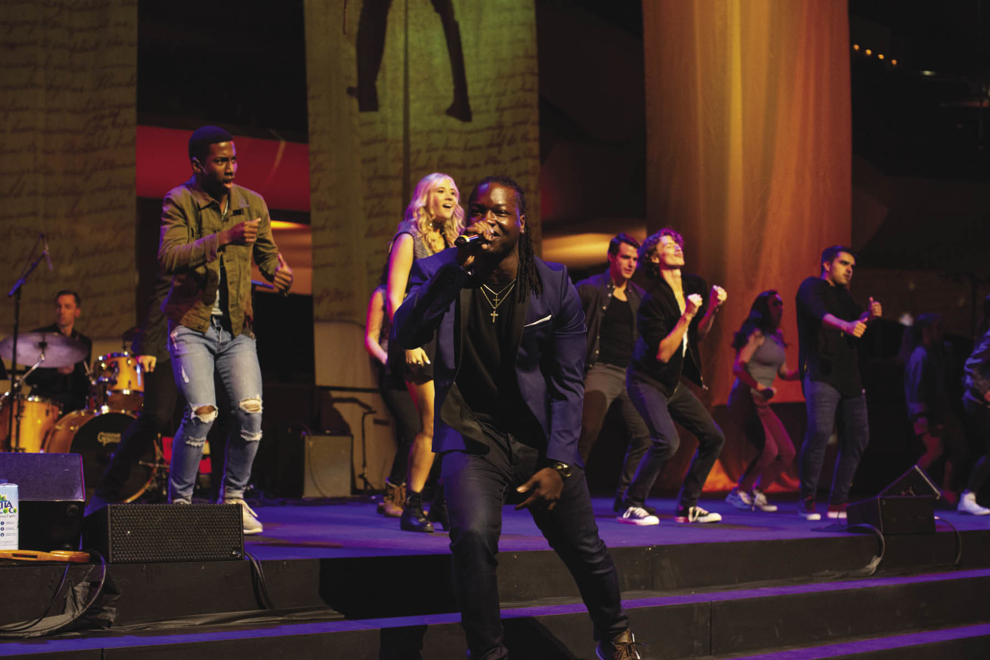 Best Themed Entertainment
TPAC Gala
There's no shortage of stellar entertainment at events around town, but none was more on point with the theme than the TPAC Gala. The performing arts center always chooses one of its upcoming Broadway shows to celebrate at the August affair, and not surprisingly, Hamilton was the inspiration for the 2019 gala. But what was even better was the performance from Chris Lee, a former Belmont student who played the dual role of Marquis de Lafayette and Thomas Jefferson in the original Chicago cast. Guests were enthralled by his high-energy performance, which served up an extra dose of excitement for the smash hit's winter run at TPAC.
Best Trip to the Past
Chukkers for Charity
Saddle Up and Rochelle Center chose a Downton Abbey theme for the annual charity polo match, just in time for the film's release. The choice proved to be a winner as guests arrived decked out in cloches, drop-waist dresses, long strands of pearls and three-piece suits, adding a touch of old-fashioned flair and glamour to the already fabulous festivities. The Crawley family would've certainly approved.
Best New Fundraiser
Tennessee Innocence Project Gala
The Tennessee Innocence Project made a memorable debut, thanks in large part to its sold-out gala in the fall. It helps that bestselling author John Grisham was the keynote speaker for the affair. The affable author took time to greet VIPs at a private reception beforehand and then spoke after dinner about the importance of organizations, such as the Tennessee Innocence Project, that serve the wrongfully accused.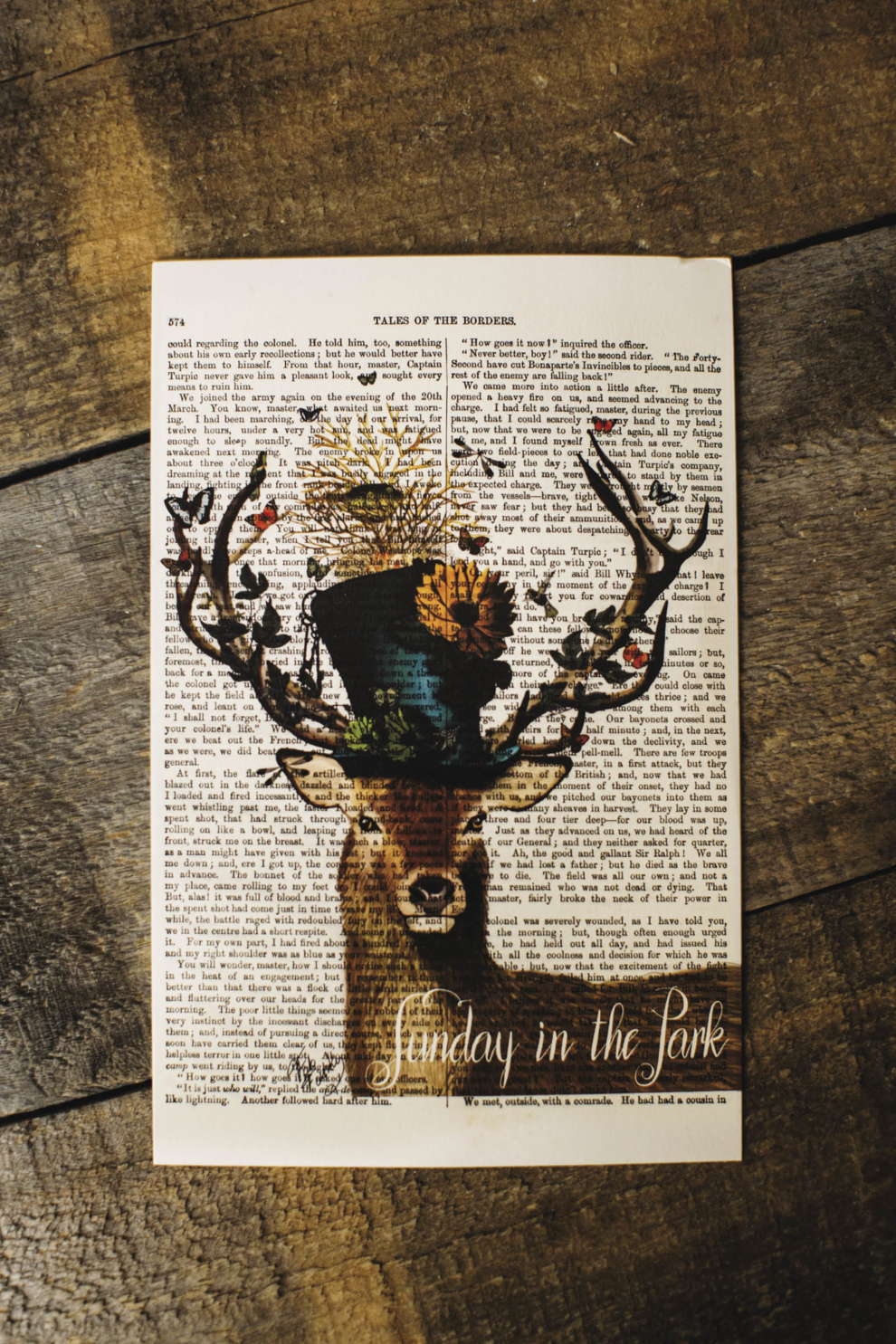 Prettiest Invitation
Sunday in the Park
A lot of invitations land in the Nfocus mailbox, so we take notice when one stands out, and a deer wearing a flowered top hat definitely stands out. The whimsical creature, painted atop a page of text, actually came from an old English book found in a London flea market. The charming image not only served as the Sunday in the Park invitation (designed and printed by Joyner & Hogan), but it also inspired the theme for the 30th annual autumnal luncheon, co-chaired by cousins Jay Joyner, Trisi Larish and Tori Wimberly.
Most Powerful Panel
Most Powerful Women
Don't mind us while we toot our own horn, but our Most Powerful Women luncheon, co-hosted with the Nashville Post, brought together one of the liveliest, most engaging and, yes, most powerful panel of women in town. With Cheekwood's Jane MacLeod, celebrity chef and restaurateur Maneet Chauhan, YWCA's Sharon Roberson and First Horizon's Carol Yochem offering professional advice and wisdom, the women in the sold-out crowd walked away feeling inspired and empowered.
Most Colorful Twist on Tradition
Gentlemen's Christmas Breakfast
For 20 years, Shaun and Gordon Inman have made their Gentlemen's Christmas Breakfast a can't-miss gathering on the second Saturday morning of December. In 2019, some of their longtime guests set the stage for future editions to shine just as brightly when they gifted Gordon with a holiday red suit coat and snappy bow tie. The heartfelt thank-you gifts added an extra note of warmth to what has long been a jovial get-together that helps truly kick off the holiday season.
Best Photo Opportunity
Jane Sloan tribute wall/Antiques & Garden Show
An instrumental part of the Antiques & Garden Show from its beginning, the late Jane Sloan shared her passion for the show and life with all who were fortunate to know her. Electric Flora created a stunning flower wall of more than 3,000 roses that was the perfect tribute to her vibrant spirit. The profusion of color also captured the attention of thousands of visitors who could not resist posing in front of it for a special keepsake.
Best New-to-Us Fundraiser
The Bug Ball
The Bug Ball was an inspiring, lively and touching evening of song to raise funds for The Theater Bug, which brings together young artists from every part of the city to create community, build confidence and encourage them through experiences in the performing arts. It turns out we're not the only ones excited to discover The Bug. In December, Good Morning America surprised Executive Director Cori Laemmel with a hefty check to help in the search for a new home for the company.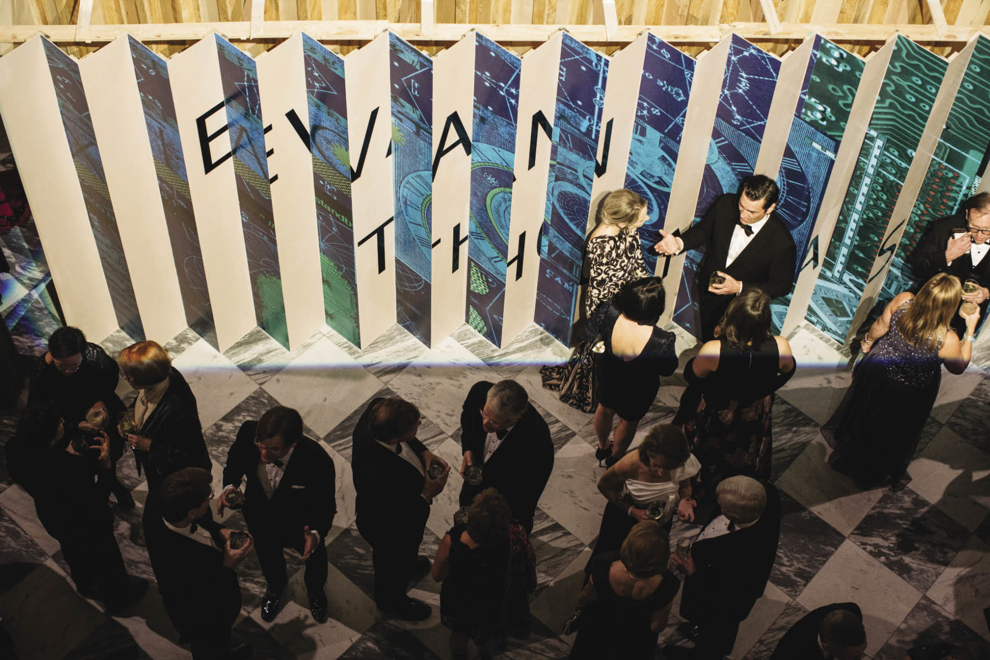 Most Creative Décor
Lenticular Walls/Literary Award Gala
Inspired by the theme of innovation and the lenticular print pieces for the Literary Award Gala, Big Events' Lacey Fuson worked with artists Susan Hulme and Billy Renkl to create a fascinating, larger-than-life installation with two walls that, when viewed from different angles, showcased two unique images. Partygoers were instantly engaged in the interactive display and thoroughly enjoyed watching it "move" as they walked around it.
Best Example That the Show Must Go On
Bartenders/Cheekwood Society Dinner
There's always a risk to hosting an alfresco event, and the odds seemed against the Cheekwood Society Dinner last spring. Just as it was beginning, the sky turned dark, and gusts of wind and rain blew into the lavish tent on the Swan Lawn. The sudden change in weather didn't faze bartenders, who calmly continued filling glasses while curtains whipped fiercely behind them.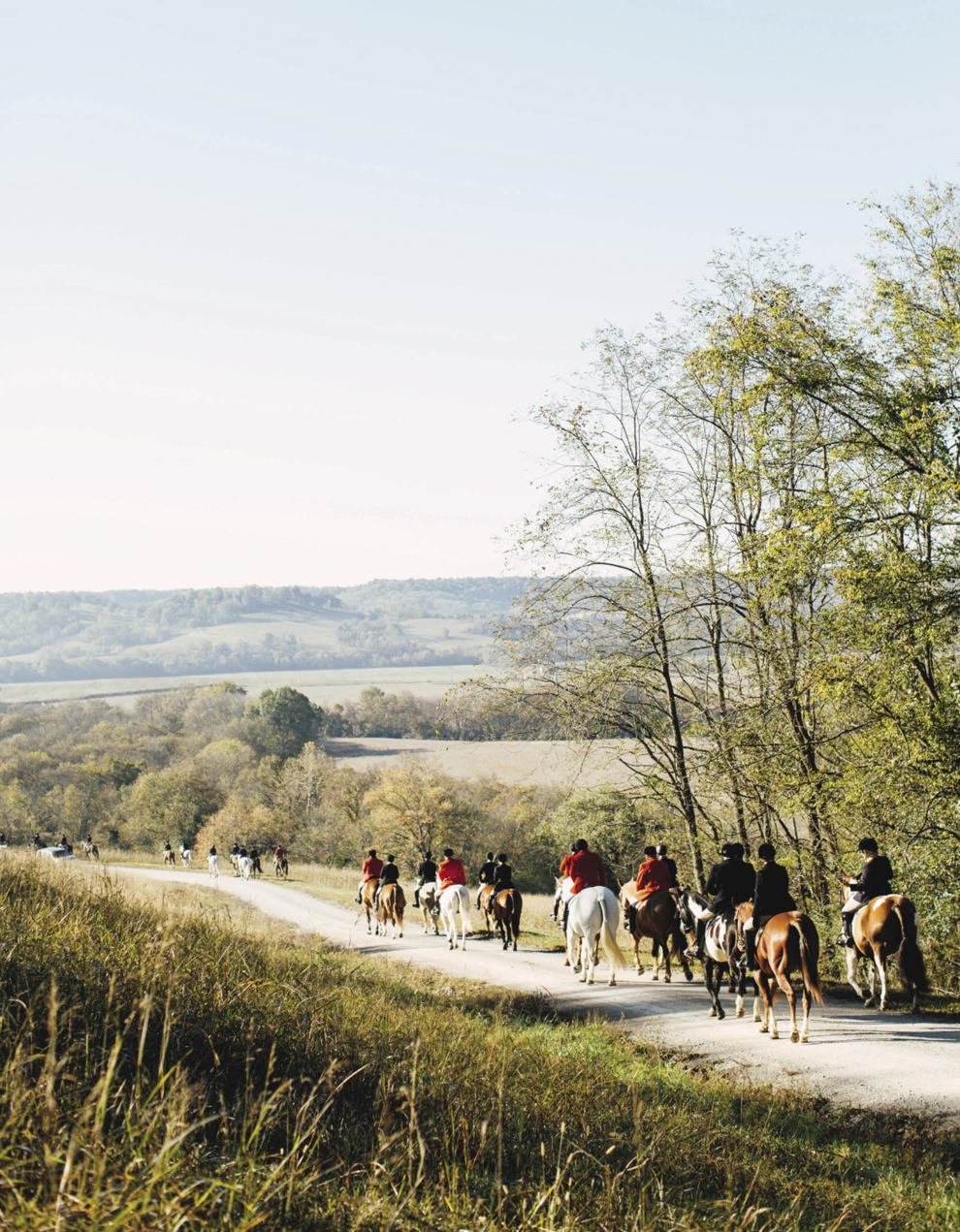 Prettiest Setting
Blessing of the Hounds
There are many gorgeous venues, but sometimes it's Mother Nature who offers the best one. The prettiest site we visited all year was Lynnville for the Blessing of the Hounds. It was a beautiful, sunny and tad frosty morning when we had the privilege of watching the hounds, riders and horses take off over the leafy, rolling hills of Giles County.
Best Auction Item Worth Packing Your Bags For
Road trip with the Predators/Petey's Preds Party
The Nashville Predators are very generous to the community, often donating a trip to an away game to the many charity auctions in town. At their own Petey's Preds Party, they outdid themselves. The live auction offered one lucky bidder an irresistible extended road trip to travel on the plane with the team to four consecutive away games.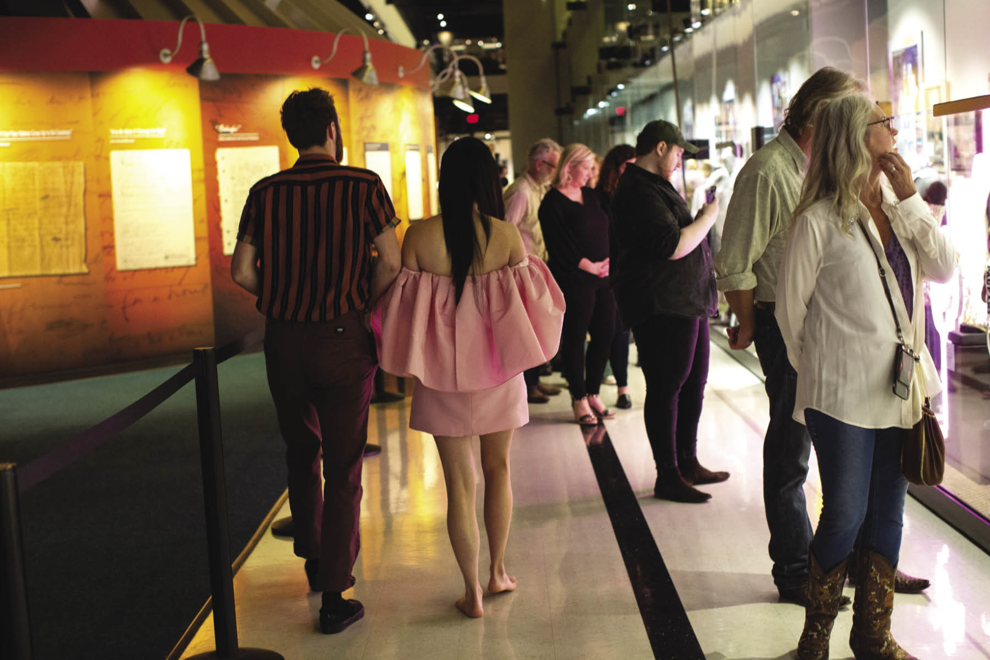 Best Example That Stars are Just Like Us
Kacey Musgraves
At the Country Music Hall of Fame preview for Kacey Musgraves: All of the Colors, the popular singer-songwriter looked every bit the star in a billowy pink minidress and sky-high heels. Not long after she addressed the room, she did what many women can relate to: She shed the stilettos before mingling among the crowd in her bare feet.
Best Hands-On Activity
Food Prep Session/The Nashville Food Project
It's not often enough that we get to visit the nonprofits we write about and join in the work they do to make our city a better place to live. Fortunately, no special culinary skills are required to volunteer in The Nashville Food Project's kitchen for food prep sessions. We had a blast and our short two-hour shift yielded meals for 857 people!
Best Place to See Local Art
Little Hearts, Big Art
The place to view the works of the city's top local artists — including Aaron Grayum, Celeste Green, Ed Nash and Wendy Walker Silverman — was at Little Hearts, Big Art, a fundraiser for Project Heart. Attendees responded to the generous donations by bidding wildly for original pieces, thus raising a whopping $150,000 — up more than 50 percent from last year — to find a cure for congenital heart disease.
Sassiest Speaker
Tara Conner/Reaching New Heights
"I'm not everybody's cup of tea. What you see is what you get." With her jet-black pixie cut, tattoos and emotional support dog, Tara Conner shattered pageant queen stereotypes at Cumberland Heights' Reaching New Heights luncheon just as she had when she was Miss USA 2006. She was articulate, sincere and straightforward as she shared her equally unconventional story of substance abuse and recovery with spellbound attendees.
Best Private Concert
A Little Night of Music
The 400-plus people at Pencil's A Little Night of Music could barely contain their excitement for the intimate performance from Tim McGraw, but little did they know how cozy it would be. Within minutes, he was walking down the aisle and belting out hits — even serenading one lucky lady while sitting in her lap! Not to leave anyone out, he high-fived delighted fans at the back of the standing-room-only event.


Best Tour Guide
Kem Hinton
When we met the Nashville architect at Bicentennial Mall for a photo shoot, he treated us to an impromptu tour of the sprawling urban park. As the lead designer of the project, he let us in on behind-the-scenes stories and little-known facts about the Bell Carillon, World War II Memorial and more. It was an educational and entertaining afternoon we will always remember.
Best Off-Broadway Performance
Chris Simonsen/Whitland Parade
The Whitland Fourth of July Celebration takes place almost 900 miles from the bright lights of the New York City Theater District, but when Chris Simonsen followed classics "Yankee Doodle" and "America the Beautiful" with a variety of show tunes and Sinatra hits, the neighborhood seemed much closer to that other West End than our own avenue of the same name.
Best Send-Off
Kathleen O'Brien Farewell
After 31 years at TPAC, Kathleen O'Brien certainly deserved the spectacular send-off held to mark her retirement dinner. In addition to receiving a Lifetime Applause Award and tributes from industry peers across the nation, Matt Logan surprised her — and everyone — with an over-the-top musical production that featured highlights from the last 30 years of TPAC shows.
Best Way to Sell Out a Luncheon
Honor Seven Great Ladies/Joe Kraft Humanitarian Award Luncheon
The Community Foundation of Middle Tennessee ensured that the Joe Kraft Humanitarian Award Luncheon would be a red-hot ticket when they chose to honor seven extraordinary women leaders. Every sector of the city turned out to celebrate Clare Armistead, Janet Ayers, the late Colleen Conway-Welch, Inez Crutchfield, Annette Eskind, Carrie Gentry and Rosetta Miller-Perry, ladies whose hard work and accomplishments over the course of 50 years have improved the lives of countless Nashvillians.
Most Valiant Effort
PMC Valets/Conversations at OZ
Parking at OZ Arts Nashville is often a quandary. Do you park yourself and navigate the steep hill or get in the queue? On the night of Conversations at OZ, heavy rain and thunderstorms meant everyone went through the valet line. Even tornado warnings didn't deter the waterlogged PMC fellows from slogging through the downpour to park and retrieve cars for guests.


Best-Tasting Science Experiments
Mad Bash
It was a fun and flavorful trip back to lab class when the Adventure Science Center's fundraiser explored the sense of taste. The gustatory adventure also included pairings with Jackalope Brewing Company and Corsair Distillery, whose Ryemaggedon — matched with espresso-rubbed pork belly topped with chocolate Pop Rocks — was out of this world. We had no idea science could be so delicious!