What's your favorite holiday tradition? Cooking! And then seeing everyone so happy being together as a family and enjoying what you cooked.
What's a must-have dish on your Thanksgiving table? New Orleans oyster dressing, which my grandmother from New Orleans taught me how to cook when I was young. Memories of the savory flavors in the kitchen of bay leaves, butter and thyme will always remind us of this special time of the year in our family.
What's your favorite part of Thanksgiving Day? Our family is into cooking, meal planning and all the food prep, which brings us closer together. We make the New Orleans dressing, sweet potato casseroles and desserts the day before, then get up early to prepare the turkey with the other dishes for a late Thanksgiving lunch. We even get the grandkids to help where they can, with cookies and bread making. The mess is worth it!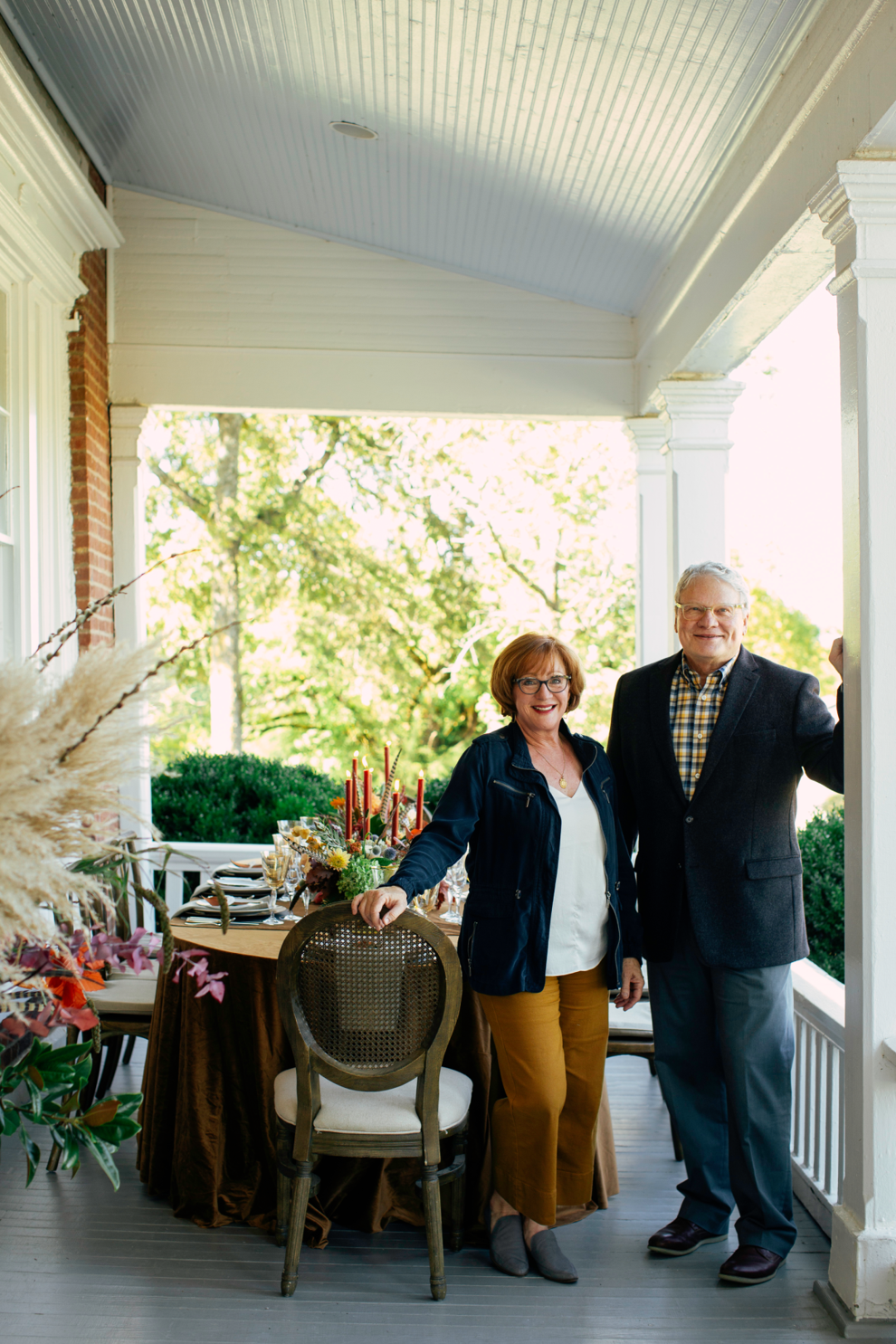 With everyone spending so much more time at home this year, what's your best advice for making the house feel special for the holidays? Making your home warm and inviting is so important during this difficult time. We don't see each other as much as we like, so the home should be a comforting place to spend the day. Build a fire, light a candle, [with] great music playing, games and jigsaw puzzles ready so everyone has something to do. After the meal, we all take a family hike or bike ride to get the body moving after all the calories consumed!
What's your best advice for entertaining or celebrating the holidays in a safe way? Provide a lot of open spaces, such as patios, porches and backyard seating. Serve plates, instead of buffet style. Follow common sense, and just be smart.
What are your favorite seasonal flowers for holiday decorating? All rich colors you find in fall flowers are my favorite! I love the bittersweet vine of orange berries and pheasant feathers used in our Thanksgiving table arrangements.
What's your best tip for holiday centerpieces? Keep the containers small and low, using multiples to run down the center of your table, instead of one large arrangement. And lots of candles! Multiple silver pitchers, vases, sugar and creamers [dishes] all work well for smaller arrangements, which you can do yourself. Clippings from your yard — hydrangeas, ivy, magnolia — all work well. Add fruit and vegetables for visual interest and color, such as green apples, persimmons, red pears and artichokes.
Are there any new trends for holiday tables this year? We have definitely seen the home and dinner tables back to a classic, warm look — more colorful — which lends itself to nurturing the family as all stay home more now than ever.
How do you typically dress up your Thanksgiving table? Since it is a special time of the year, bring out the china and silver! Use a unique charger, and layer different style plates for salad, dinner and dessert. Don't forget a napkin ring. And if you don't want the fuss, call your favorite party rental company and pick up all the dishes, napkins and tablecloth. Or have it delivered. No clean-up!
What's your best advice for meal planning for Thanksgiving? Lots of lists and planning all the details ahead of time, so no chaos and no last-minute grocery store runs. 
Do you have any Thanksgiving meal prep hacks? Prepare all your dishes a day or two before and store [them] in [the] refrigerator so [on] Thanksgiving day, you can enjoy your family and guests.
What local takeout items do you recommend to round out a Thanksgiving menu? The Thanksgiving turkey can be one of the hardest to cook, so we usually buy this already cooked [so we only] need to warm on Thanksgiving Day.  No second-guessing. Also, desserts are great to pick up from your favorite bakery a day ahead, but be sure to get your order in weeks before.
How will your holidays be different this year? We always seek out friends that are not able to be with family to join us for the holiday meal. The more, the merrier! We love a table full of family and friends.