What's your favorite holiday tradition? Making and sharing family recipes and adding your new special dish that will make a new tradition.
What's a must-have dish on your Thanksgiving table? Cranberry sauce
What's your favorite part of Thanksgiving Day? Sharing my home with people I love.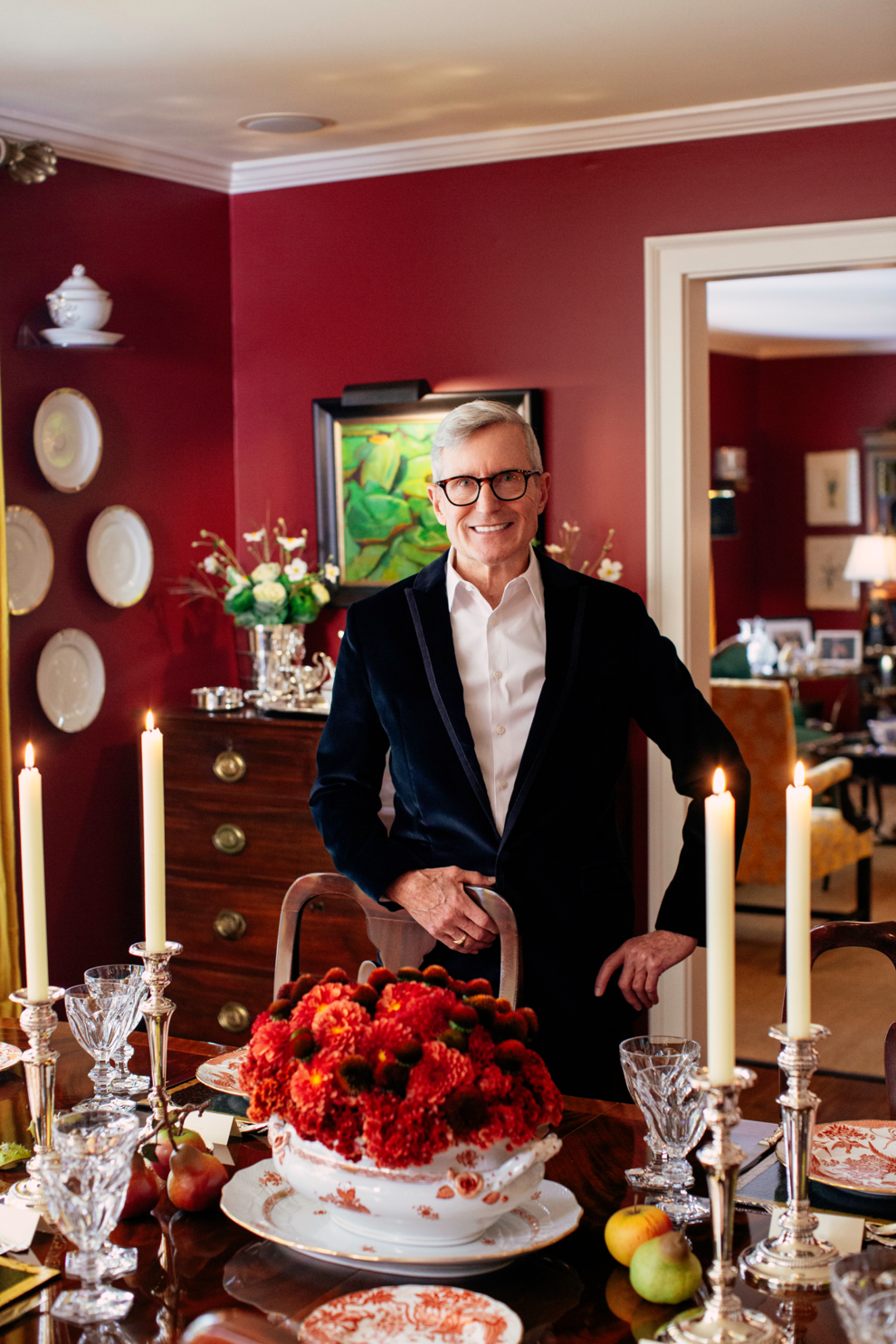 With everyone spending so much more time at home this year, what's your best advice for making the house feel special for the holidays? Flowers, of course. My new favorite look is to take a collection of wine decanters (old or new) and use a single specimen stem. They really showcase the beauty of one bloom.
What's your best advice for entertaining or celebrating the holidays in a safe way? Limit the guest list. If you have more guests than you can socially distance at your dining room table, adjust your family room or library and add additional tables.
What are your favorite seasonal flowers for holiday decorating? Brown Sugar dahlia. It's a rust color, which is perfect in my red dining room. There are so many interesting plant materials from California during this season that make a huge difference in the look of an arrangement.
What's your best tip for holiday centerpieces? Use a cherished family piece as a container. I will use my Herend tureen, which was a 65th birthday present, overflowing with autumnal flowers. Sometimes, you can get carried away with too much on the table, which becomes confusing. Your eye should dance across the tabletop.
Are there any new trends for holiday tables this year? Masks, of course. Make every detail perfection.
How do you typically dress up your Thanksgiving table? Use my Royal Crown Derby Red Aves patterned china, which shows a collection of pheasants, my Baccarat stemware (only used for special occasions) and a set of black crackled lacquer placemats with gold leaf trim that a good friend gave to me after a trip to France.
How will your holidays be different this year? [I will] be more thankful for the blessings I have received.