What's your favorite holiday tradition? My most favorite holiday tradition is making apple turkeys at Thanksgiving. I brought home an "apple turkey" from school back in kindergarten and my family has been making them ever since — 38 years of apple turkey making! Picture an apple for the body of the turkey, gumdrops for the feathers, a marshmallow for the head, cloves for the eyes — hopefully, you get the idea. They have been the perfect addition to our tablescape ever since!
What's a must-have dish on your Thanksgiving table? My mother's cornbread stuffing and her gravy (that I literally take a spoon to every year).
What's your favorite part of Thanksgiving Day? My favorite part of the day is being with our families. The day starts [with] cheering on my husband and his brothers in the Boulevard Bolt; eating a post-Bolt breakfast at my in-laws'; watching the Macy's Thanksgiving Day Parade and making apple turkeys with my parents and sisters; a neighborhood round of throw golf with my in-laws, nephews and nieces; and then dinner at my parents' with my sisters and their families. We are blessed with such a full dose of family!
With everyone spending so much more time at home this year, what's your best advice for making the house feel special for the holidays? Since I have three young children at home, I plan to engage them with more activities, whether that is decorating fun cookies, building a gingerbread house, or going above and beyond with lighting and festivities. If there were ever a year to bring out your inner Clark Griswold, this may be it. With everything going on in the world today, we all need to celebrate big and have something happy to look forward to!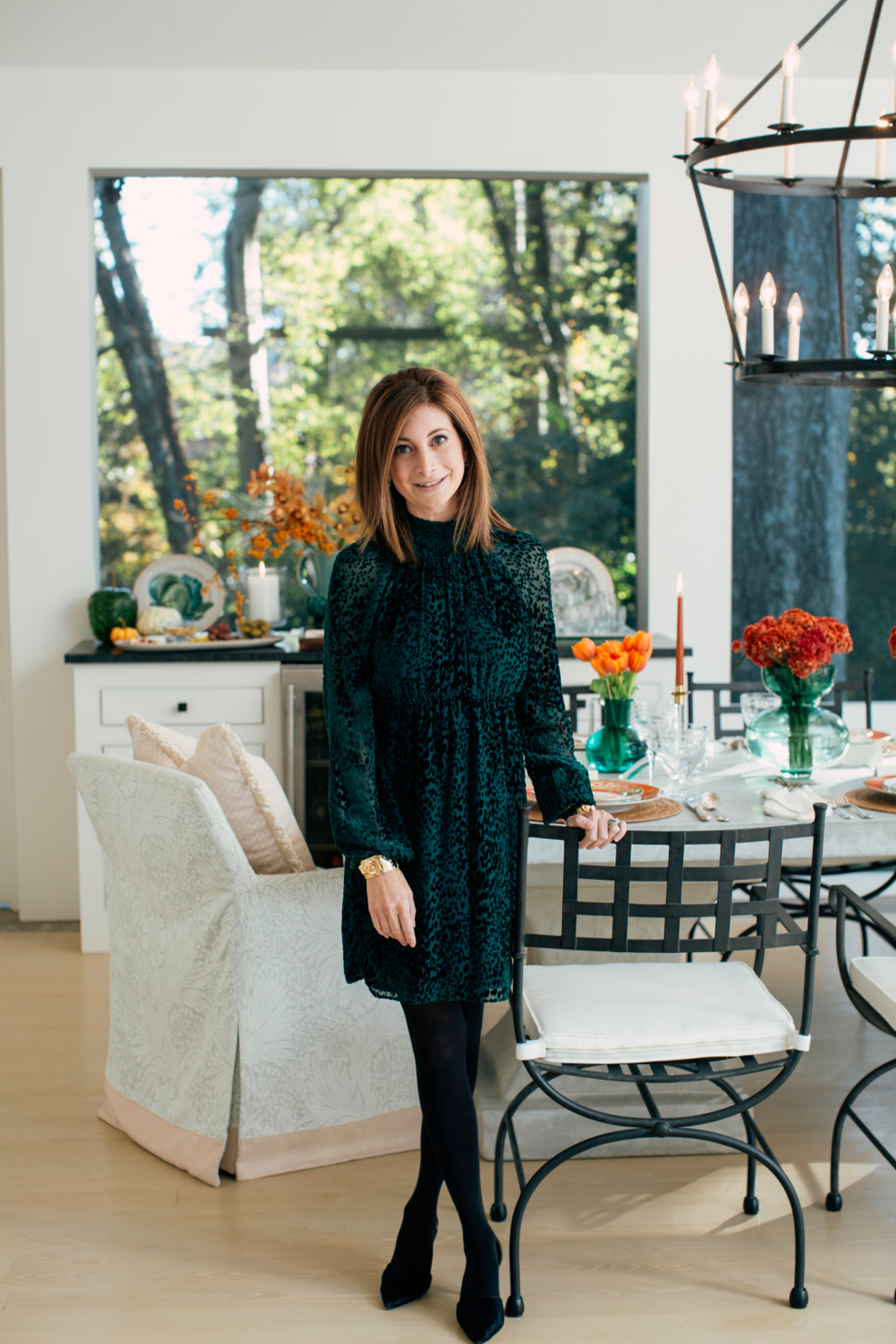 What's your best advice for entertaining or celebrating the holidays in a safe way? I think we have to be a little creative this year. That may mean spending more time outside — thankfully Nashville's weather usually allows for this — on the porch with a fire going for cocktails or dinner and spacing out place settings more than usual this year. This might even mean seating fewer people per table [and] spreading out just a little more so everyone feels comfortable! What's more fun than an excuse to decorate two tables, rather than one?
What are your favorite seasonal flowers for holiday decorating? Magnolia is my all-time fave, which you can gather from your own yard!
What's your best tip for holiday centerpieces? I love incorporating special family pieces into your centerpiece, whether that be the container, candlesticks or figurines that adorn the table. Adding in seasonal details to a fall centerpiece is so fun, as well; pumpkins, vegetables and fruits create a beautiful harvest feel.
Are there any new trends for holiday tables this year? Well, a mask, of course! Colored taper candles have become very popular. Choose an accent color that works in your dining room and with your place settings. That small change to your table can make a fun difference!
How do you typically dress up your Thanksgiving table? We incorporate some precious family keepsakes to our table each year, like my great-grandmother's lace tablecloth, silver candlesticks, beautiful Herend turkey figurines, my mother's beautiful china [and] handmade place cards. Don't be afraid to use your beautiful things; it's these touches that make such a special table!
What's your best advice for meal planning for Thanksgiving? Call the expert, my mother, Peggy Richter! Timing is everything, so starting early is key.
Do you have any Thanksgiving meal prep hacks? Never on my watch. :)
What local takeout items do you recommend to round out a Thanksgiving menu? Call one of the many fabulous local caterers, and they would be glad to help!
How will your holidays be different this year? I am more grateful than ever this year, and taking nothing for granted — hugging my kids longer, holding my family nearer and counting every single blessing!