Hot cross buns. Deviled eggs. Matzo ball soup. Passover and Easter are two holidays filled with delicious food, and this year, several local restaurants are offering special meals, whether you want to go out or stay home. We've compiled a list of some of our favorites. It's worth noting that many spots require or strongly encourage reservations or pre-ordering, so it's best to plan ahead.
Adele's
For Passover, Adele's is offering a special takeout option that includes your choice of entrée; sides like matzo ball soup, apple and date charoset and kugel; and a flourless chocolate cake for dessert. You can also add cocktails and bottles of wine to your order, including a kosher merlot from Galilee, Israel. Orders must be placed by March 23. More details here.
Adele's has both dine-in and takeout options for Easter. The family-style Easter dinner for takeout starts at $75 per two people, and the menu includes a choice of entrée — Jonathan Waxman's famous JW Chicken, smoked leg of lamb or salmon — as well as starters, sides and desserts. Cocktail options include Adele's milk punch and bunny punch, a mix of vodka, carrot juice, lemon, ginger and mint. Orders can be made online here through March 27.
If you'd rather dine in, Adele's will be serving a brunch buffet Sunday, April 9, from 10:30 a.m.-2:30 p.m. See the full menu — French toast bread pudding, bone-in ham with cherry compote, Peeps Rice Krispies Treats and more — and make reservations here. 
Yolan
Michelin-starred chef Tony Mantuano is offering a dozen different dishes on Yolan's a la cart Easter brunch menu — Eggs in Purgatory, rabbit Benedict, Tennessee berry pancakes, and East Coast or West Coast oysters by the half-dozen or dozen, to name a few. The restaurant's Aperol spritz cart will be making the rounds, too. Reservations are strongly recommended and can be made at yolannashville.com.
The 404 Kitchen
Matt Bolus' 404 Kitchen in The Gulch is offering a takeout Passover family meal for $84 per two people. Entrée options include chicken with olives and preserved lemons, brisket with caramelized onion and tomato, or baked salmon with dill and lemon. The package comes with an array of sides — carrot salad, matzo ball soup, kugel, crispy cauliflower and a Seder plate — as well as strudel with nuts and raisins for dessert. Add two takeout cocktails, Adele's Milk Punch and the 404 old-fashioned, for $35. Place your order here by March 23.
The 404 Kitchen's Easter brunch is available both in-house or as takeout. The menu includes your choice of entrée — shrimp and grits, English pea risotto, rabbit pot pie or rack of lamb — as well as starters, sides and dessert. If you dine in, the dessert will be a crème brûlée with Cadbury eggs and fresh berries. If you choose to enjoy at home, the restaurant will include reheating instructions to ensure everything is as delicious as if you were dining in. Reservations can be made at the404nashville.com, and pre-orders for takeout meals must be made by March 27.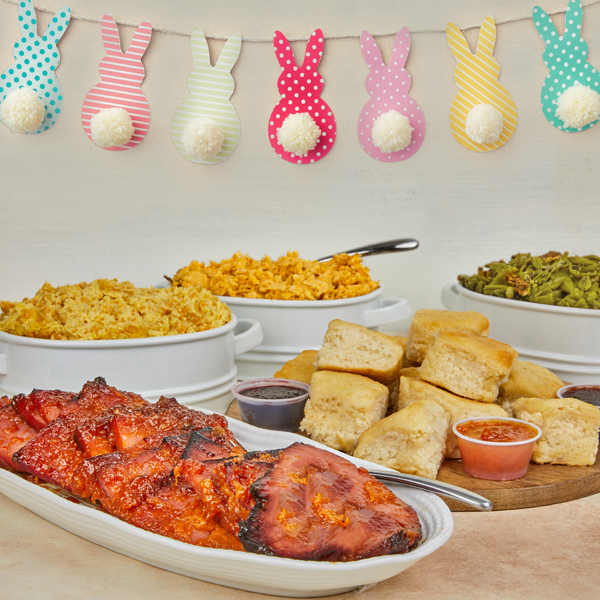 The Loveless Cafe
You can feed four to six people with The Loveless Cafe's hearty Easter meal pack. For $124.99, you get four pounds of country ham with peach glaze, a tray of biscuits and assorted preserves and your choice of three sides, including turnip greens, creamed corn, slow-cooked green beans or hashbrown casserole. You can add extra sides and whole pies — chess, chocolate chess or Steeplechase pie — to your order, too. They recommend you order early, as they understandably sell out quickly. Get all the details here.
There's so much more:
On Thursday, March 18, Henrietta Red will begin taking orders for their takeout holiday specials, including quiche, French toast bake, oyster kits and a cured salmon platter with bialys.
Etc. is making Easter easy with their Easter supper kits for two. The menu includes a Brussels sprout salad, lamb loin with veggie filo pockets, ginger green beans and a milk chocolate raspberry tart. Kits are limited and available until March 31 or until sold out. The restaurant also has special menus for both a Sunday brunch from 10 a.m.-2 p.m. and an Easter supper from 4-8 p.m. See the menus and make reservations here.
STK Steakhouse will be serving their full brunch and dinner menu on Sunday, April 4, along with Easter specials, like honey citrus glazed ham and king crab deviled eggs. Reservations can be made via OpenTable and takeout orders are also welcome.
If you're looking for a meal that will accommodate a larger group, JP Events' catered Easter dinner will feed up to eight people. The $150 package includes deviled eggs, fig and camembert bruschetta, an apple and fennel salad, bourbon-glazed spiral ham, scalloped potatoes and more. Need something sweet? Add their Extreme Carrot Cake — with cheesecake filling, white chocolate shortbread crumble and graham cracker buttercream icing — to your order for $20.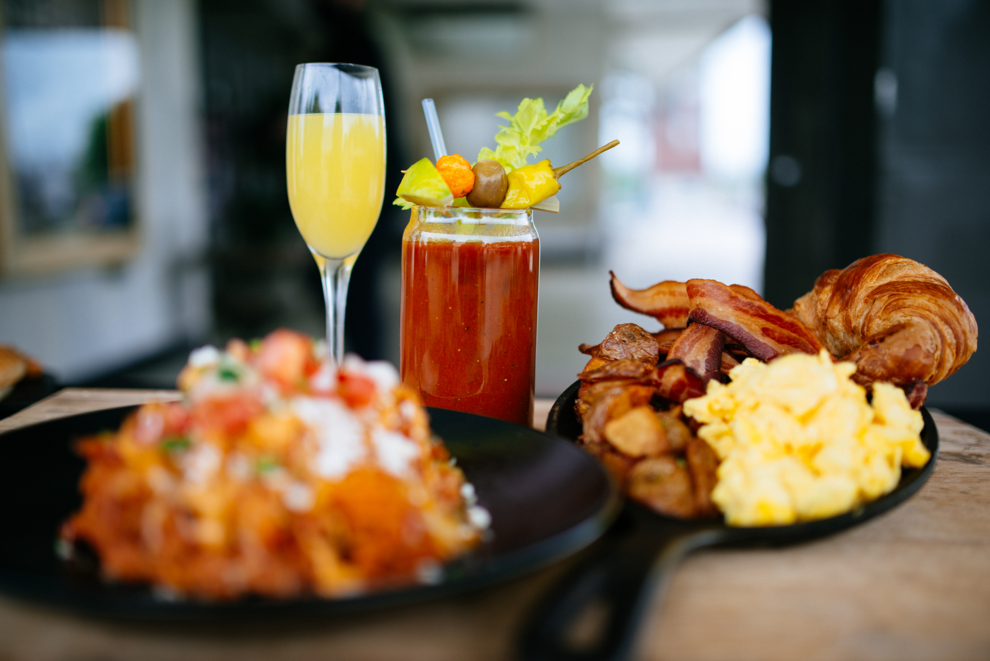 For Easter weekend, April 3-4, Sinemais stepping up their usual bottomless brunch menu (which is impressive in its own right). Reservations are required, and it is $35 per adult. Because of COVID-19, they've temporarily done away with the buffet and are now delivering the brunch dishes to the table family-style, but you can still enjoy all you can eat. Expect fried chicken, biscuits and gravy, pancakes, fruit parfaits, bacon, eggs and Fruity Pebbles french toast. The bottomless mimosas and bloody mary bar will also be available. 
Martin's BBQ is always good for Easter specials. This year, they have three different meal packages, including an Easter supper (which feeds four to six people), an Easter feast (for 12-15 people) and a prime rib supper (for four to six people). Orders must be placed by Friday, April 1, at 5 p.m.
Amerigo is serving a dine-in Easter Sunday brunch from 10 a.m.-2 p.m. Reservations are encouraged. The restaurant is also offering a takeout family meal for $75, featuring a mushroom, spinach and goat cheese frittata; fresh fruit; grits; and bacon. Preorders are accepted through Friday, April 2.
E3 Chophouse in Hillsboro Village is offering Easter specials on April 4, along with their regular menu. They're also extending their hours and will be open from 2 p.m.-10 p.m.
Chef's Market has several Easter weekend options, too, whether you are feeding a couple or a crowd. Prices range from $60 for the Easter dinner for two to $250 for the Ham I Am package that will serve up to 12. A la cart items, including my personal favorite, their spinach con queso, are also available. Easter orders must be placed by March 30 at noon.
Finally, if you're looking for some creative ways to fill your baskets, Graduate Nashvilleis hosting an Easter market on March 27, from 10 a.m.-3 p.m. Local businesses, including on-the-spot embroiderer The Tilly Goose, children's clothing boutique Plaid Rabbit and chocolatiers Poppy & Peep will be on hand with treats, Easter baskets and goodies galore.
The Graduate is also hosting an Easter art show on Thursday, April 1, and Saturday, April 3. Artists like Sam Sidney and Hannah Lane will be showing art inspired by Easter traditions, and afterwards, you can shop pop-ups from local purveyors including Nashville Artist Collective, Gift Horse, Pink Door Cookies and Rock Paper Scissors.
And what's Easter without an egg hunt? The Nashville Zoo's annual event will take place on April 3, with age groups staggered throughout the day, and Pinewood Social is bringing back their family-friendly hunt with an all-ages hunt and a visit from the Easter bunny Sunday, April 4, 11 a.m.-12:30 p.m.