Corn, tomatoes, zucchini, oh my! Summer produce is in full bloom, and several Nashville restaurants have begun to fill their menus with some of the best flavors the season has to offer. Here are four local favorites making the most of nature's bounty, and for even more tasty fun, check out Tomato Art Fest, East Nashville's annual tomato-loving arts and music festival, Aug. 12-13.
Lockeland Table
Gorgeous heirloom tomatoes from White Squirrel Farm are the star of Lockeland Table's summer offerings. The East Nashville eatery is currently serving a bright and tangy tomato and pickled corn salad with green goddess avocado dressing, as well as a lettuce wedge salad with fried green tomatoes and crispy pork Tennshootoe from The Hamery in Murfreesboro. Feel like some pizza? Big, fat slices of vibrant red and orange tomatoes also top the seasonal Woodstock pizza, a wood-fired pie finished off with shaved fennel, herb and black pepper ricotta, pesto, and pecorino.
Folk
The chefs at Folk know good food, no matter what's in season, and right now, corn is the name of the game. Bright yellow kernels are popping up on the restaurant's pizza (with preserved hot pepper and raclette cheese), in the salads (with blueberries and walnut), and even on the dessert menu. Pastry chef Claire Jordan has made a sweet corn ice cream rounded out with lime and Espelette pepper. Does a veggie-based ice cream sound a little too out there for you? Trust Claire! Earlier this year, she made a sweet pea ice cream dotted with chunks of white chocolate and topped with earthy roasted pine nuts, and it was one of the best, most innovative scoops of ice cream I've ever tasted. You'll be delightfully surprised by what corn can do.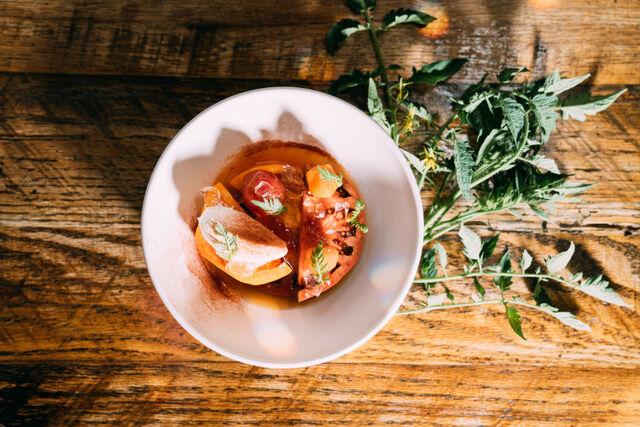 Husk
At Husk, chef Ben Norton takes classic, comforting Southern dishes and elevates them with thoughtful preparation. Take his heirloom tomato salad, for example, which is rounded out with sweet, ripe cantaloupe, marigold habanero jelly and a dollop of smoked cream. The restaurant's mainstay, country ham, has a new look for August, too. Benton's ham, aged 12 months, is sliced paper thin and served with fresh-baked rolls, fig leaf jelly and height-of-the-season peaches.
Yolan
Starting this week, Yolan is open for dinner seven days a week, and the timing couldn't be better; the restaurant just debuted its summer menu, and it is lush with flavorful produce, from slices of The Farm & Fiddle's yellow squash served with Bear Creek Organic Farm beef tartare to the tomato "honey" drizzled atop fried squash blossoms. Yolan's desserts are a must-try, too, and right now, Executive Pastry Chef Noelle Marchetti's surprising sweets feature local cucumber, rhubarb and sunchoke.