Oded Brenner, founder of Blue Stripes Cacao, has been heralded as a modern-day Willy Wonka, bringing cacao — the cornerstone ingredient of chocolate — to mainstream meals and markets. His Blue Stripes Cacao shops, first opened in Manhattan's East Village before expanding to Nashville in February 2021, have elevated cacao to the headlines of menus in the form of cookies, candies, cocktails, steamed beverages, salads, breads and breakfast bowls. Oded's branded Blue Stripes line of cacao-based products includes flavored waters, flours and granolas that line the shelves of his brick-and-mortar store in The Gulch, among an extravagant array of cacao-based delicacies that some chocolate-loving sweet tooths might call "superfood-adjacent."
Inspired by global travels and a desire to leverage more of the cacao plant than just the beans traditionally used in chocolate, Oded has built a business that is both mouthwatering and earth-friendly. Above countertops laden with croissants, cookies and other confections, a mural educates about more than just the Blue Stripes menu: "The chocolate industry wastes 70 percent of the cacao plant. Blue Stripes upcycles the whole cacao — shell, fruit and beans — to promote holistic wellness and sustainable sourcing that is good for you, the farmer and the planet."
By working to leverage the whole cacao to maximize benefits for farmers and minimize impact on the environment, Blue Stripes cacao puts a new and sustainable lens on a favorite flavor, in a gleaming and bustling neighborhood that puts a new face on the city of Nashville.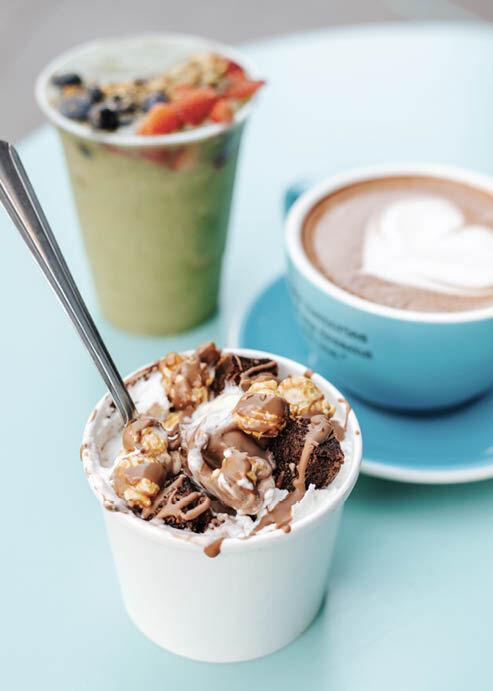 What to Expect
Prepare to be illuminated by the many innovative iterations of cacao. In this sleek showroom of a coffee shop — where monumental slabs of Callebaut chocolate, with varying levels of cacao content, line the walls — cacao appears in the form of flours, keto snacks, dried fruit, flavored waters and espresso-style steamed drinks, to name a few not-so-obvious manifestations. By the time you leave, you could expect to experience cacao in multiple forms without even knowing it.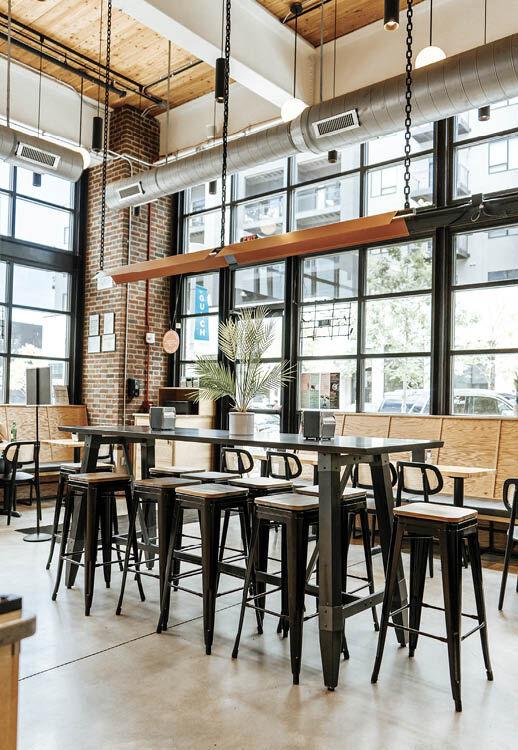 Why Visit
Blue Stripes provides an urban sanctuary of sorts, with outdoor cafe tables along an emerald green space. On the boardwalk, tucked off 11th Avenue, live music and the hypnotic trickle of a fountain balance the hustle and bustle of the main Gulch thoroughfare. There's no better place to grab a cozy cup of hot chocolate or a cool cacao water to explore the trendy neighborhood.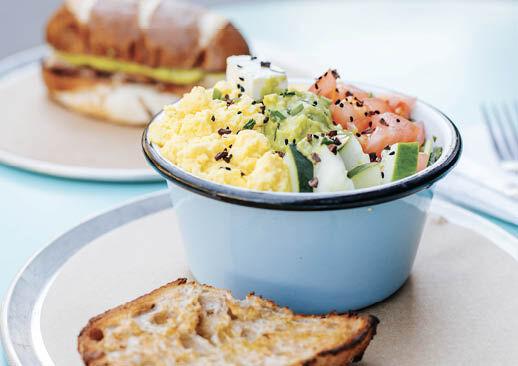 What to Order
Let your curiosity roam the decadent menu, where cacao flour makes its way into the toast for tartines with egg and avocado or pesto and mozzarella, and ground cacao beans infuse steamed espresso drinks, such as cacao lattes and cacaoccinos. Consume your cacao in the forms of cocktails, sodas or drinkable chilled chocolate mousse on tap. Or just lean into the good old-fashioned chocolate classics such as warm lava cake, Nutella brownies and croissants, fondue, cheesecake or soft serve ice cream sundaes.
Photographs by Kelli LaMatia