To close out its 20th year, the Frist Art Museum has opened two new exhibits this week: American Art Deco: Designing for the People, 1918-1939 and Mary Sibande's Blue Purple Red.
American Art Deco has everything you would hope to see in a Jazz Age exhibit: fabulous colors, geometric patterns and sleek materials. It's the perfect exhibit to celebrate the Frist's 20th year in the gorgeous, century-old art deco building. While there is plenty of optimism and glamour in the post-World War I exhibit, which features everything from paintings, sculptures and photographs to toys, dishware, clothing, appliances and even a 1930 Ford Model A car, there is also an emphasis on the economic and racial disparities we're still struggling with in America today.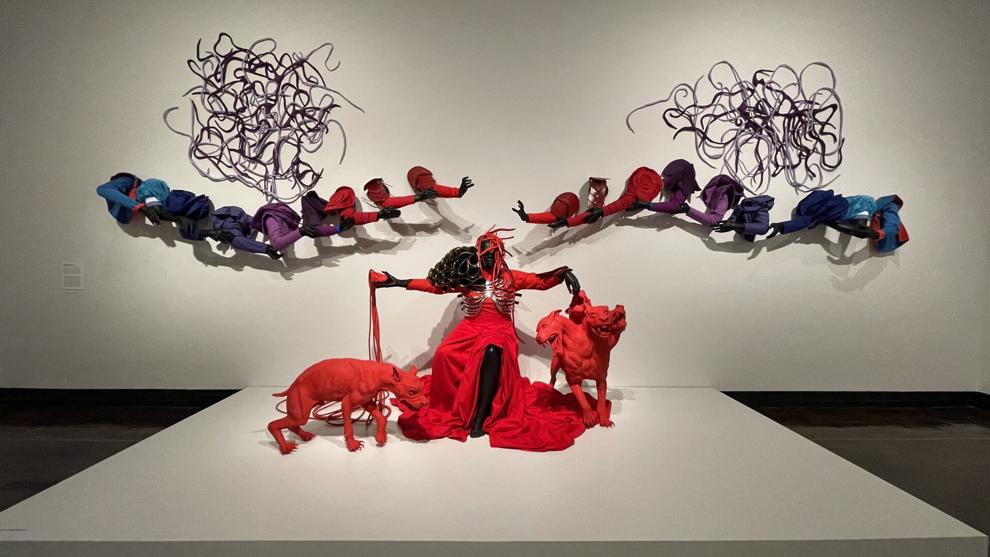 South African artist Mary Sibande's Blue Purple Red is a more raw, sobering exhibit that displays a series of motifs in sculpture and photographs that reflect the emotional experiences — resignation, hope and anger — of her home country's turbulent political and social history. Sibande uses a dreaming persona called "Sophie" to express that range of emotions throughout the progression of pieces beginning on the left. Chief Curator Mark Scala explains, "Blue-clad apartheid-era Sophie dreams of escaping her poverty; purple-clad Sophie dreams of achieving full selfhood in the early years of democracy. Today's red-clad Sophie dreams that there can be no peace without justice.
Catherine Futter, the interim director of curatorial affairs and senior curator of decorative arts at the Brooklyn Museum, will present the opening Curator's Perspective program for American Art Deco on Friday, Oct. 8 at 6:30 p.m. And Mary Sibande will join the Frist on Zoom for the opening Artist's Perspective program on Saturday, Oct. 9 at noon to discuss her works in relation to intersections of race, gender and class in South Africa.
American Art Deco will be on display in the Ingram Gallery and Blue Purple Red in the Gordon Contemporary Artists Project Gallery from Oct. 8, 2021 to Jan. 2, 2022. For more information about the exhibits and to reserve your tickets, visit fristartmuseum.org.